Danny Trejo Might Be the Most Fun Part of 'The Flash' Season 4
Get ready for that fun, new "redirection" for the show in Season 4.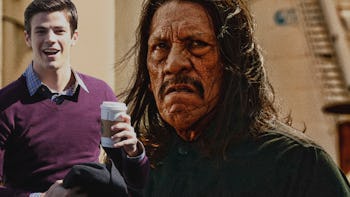 The CW / Danny Trejo
When The Flash returns for a more "fun" Season 4, Danny Trejo's Breacher, Gypsy's badass father, will play an integral role in this more upbeat "redirection" for the show this year.
Grant Gustin, who plays Barry Allen in the show, announced during San Diego Comic-Con in late July that Season 4 would use Barry's return from the Speed Force as a way for the show to return to its more fun-loving roots. Barry's lighter and seems absolved of his past sins, so there'll be less whining about impending death delivered by Savitar.
Executive producer Andrew Kreisberg confirmed to Entertainment Weekly in an interview published Tuesday that Danny Trejo's new character plays a significant role in this new "redirection" for the series. It'll happen in an episode focused on Cisco and Gypsy:
"His character and his storyline with Cisco and Gypsy, it's part of this slight redirection of the series this year — it's just doing much more fun stories and much more just out and out hilarious things to match Barry's newfound optimism and lightness."
Cisco's long been a big source of comic relief on The Flash between his nerdcore t-shirts and random comments. Though his attempts at romancing women can get a bit cringeworthy, his budding romance with the badass Gypsy in Season 3 was fun to watch, especially because they share the same set of meta-human powers.
Team Flash's resident nerd Cisco doesn't take much seriously, so seeing him interact with the ultra-badass father of his girlfriend is bound to make for a fun episode. Kreisberg and the rest of The CW sure hope so: "We just thought it would be a hilarious idea for Cisco, who's managed to melt Gypsy's heart, being unable to do the same with her father." The dream casting, as it turns out, was Danny Trejo, and everybody was happy when they were able to secure him for the role.
Trejo was originally announced as Breacher back in July. He'll play a breacher meta-human from Earth-19 who's a badass bounty hunter just like his daughter.
Looks like Cisco might have a comically tough time getting to know his would-be father-in-law.
The Flash returns to The CW on Tuesday, October 10 at 8 p.m. Eastern.