Our Nightmare Continues as Jared Leto Stars in Hugh Hefner Biopic
Remember how insufferable the method actor was while filming 'Suicide Squad'?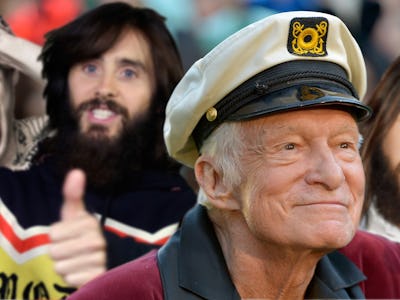 Getty Images
The recently deceased founder of Playboy, Hugh Hefner, was a controversial figure, to say the least, so it's really inevitable that somebody in Hollywood would want to make a biopic about him. But, what have we, as a society, done to deserve a Hugh Hefner biopic starring Suicide Squad's Jared Leto?
Don't answer that.
The Hollywood Reporter broke the bad news that Leto, who had to deny sadly believable rumors that he sent used condoms to his Suicide Squad castmates as part of his method acting, would be playing Hefner. Big name film producer Brett Ratner grabbed the rights to Hefner's life story in 2015, a few years after a planned version of the film starring Robert Downey Jr. fell through.
"Jared is an old friend," Ratner told THR. "When he heard I got the rights to Hef's story, he told me, 'I want to play him. I want to understand him.' And I really believe Jared can do it. He's one of the great actors of today."
Hefner died on September 27 at the Playboy mansion when he was 91 years old. He gets credit (or blame, depending on who's talking) for helping to kick of the sexual revolution, but he also made a career out of exploiting women's bodies, and several of his former "playmates" have plenty of abusive horror stories.
Hefner was problematic, while Leto is just a lot. If past precedent is anything to go by, the set antics around this movie are going to be a lot to handle, and we're going to hear all about it.
The movie doesn't have a release date yet.