MUSIC RELEASE OF THE WEEK | Florence + The Machine: 'How Big, How Blue, How Beautiful'
Dog days are seemingly over now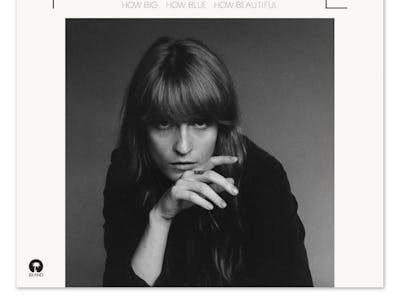 Florence and the Machine's new album, How Big, How Blue, How Beautiful, is a breakup record that isn't afraid to take you into the wreckage. While past affairs from F + The Machine have leaned on a good deal of vague imagery, lyrically — as well as a sky-scraping, at times hollow sound to match How Big, How Blue, How Beautiful locks in in a way that feels new and particularly striking. Florence Welch is going through something and its hard not to be affected.
How Big, How Blue, How Beautiful is a storm of guitars, strings, and the requisite pounding percussion. Florence + The Machines previous album, Ceremonials, was full of ballast; out of that sound, she and her band have created something more muscular, lean, and more melody-driven than anything the band has done previously. Take "Delilah," a soaring rock song that finds Welch shaking out her demons while comparing herself to Samson's bae, or opener "Ship to Wreck," which finds the kind of instrumentation and attention to melodic detail that suggests it could hold its own on like, a Fleetwood Mac album.
It loses some steam toward the end — turns out, F + M still has a penchant for five-minute opuses that stretch out a little too long without really going anywhere — but all in all, it's a record unstuck to time and lightly defiant of recent pop trends. By making things smaller and channeling simpler arrangements, Florence Welch emerges as a bigger star than ever.