Watch This Stephen King Classic Before it Leaves Netflix
'The Shining' is leaving Netflix at the beginning of the Halloween season.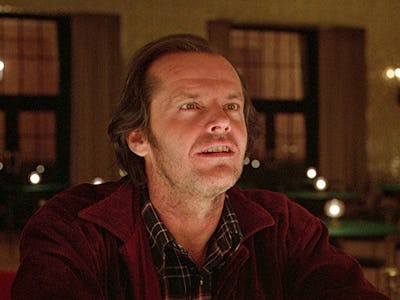 The Overlook Hotel is suddenly looking that much more isolated. The Shining(1980), Stanley Kubrick's take on Stephen King's 1977 novel of the same name, is officially leaving Netflix on October 4. So, while other King-inspired scares such as 1922 and Gerald's Game will be available on the streaming service, The Shining won't be there on Halloween to throw you down the cabin fever rabbit hole.
Removing The Shining from its inventory might seem like a weird move on Netflix's part. The world is currently in the middle of a Stephen King renaissance of sorts, with the number of television shows and movies this year based on his works verging on ridiculous. Five films (It, The Dark Tower, Suffer the Little Children, Gerald's Game, and 1922) and three television series (The Mist, Mr. Mercedes, and Castle Rock) have either premiered, are in the works, or were just announced in 2017.
And while the success of these projects has varied just as wildly as Jack Torrence's personality in The Shining, there's little room to doubt King's influence on modern-day entertainment.
Unlike The Shining, though, at least King has seemed to enjoy the majority of 2017's takes on his past work.
King famously hates Kubrick's version of The Shining, calling it a "great big gorgeous car with no engine in it" in a 1985 interview. Kubrick ignored King's own screenplay for the adaptation and hired another author to help pen it. And Kubrick supposedly promised to be more faithful to the original work than he was. King also called the ending too "cold" and disagreed with Kubrick's casting of both Jack Nicholson as Jack Torrence and Shelley Duvall as Wendy Torrance.
Despite King's protests, though, the movie remains a horror classic. So, if you haven't seen The Shining before, if it's been a while, or even if you just watched it last night, maybe give it another watch before Netflix yanks it away.
We're not saying we'll come at you with an ax or anything if you don't… but maybe you should get into the Halloween spirit a little early this year.
The Shining leaves Netflix U.S. on October 4.
If you liked this article, check out this video on why an important monster in the book was cut from the movie It.