Netflix's Stephen King Movie 'Gerald's Game' Is a BDSM Nightmare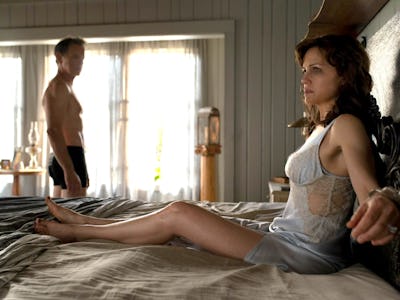 Netflix
When Jessie Burlingame's controlling husband croaks at the beginning of a questionable romp in the sheets, she's left handcuffed to the bed and forced to watch him rot. Soon enough, Jessie (Carla Gugino) starts to hallucinate, reliving past abuse and staving off an apparition of her husband, Gerald (Bruce Greenwood).
The first official trailer for Netflix's adaptation of Stephen King's 1992 novel Gerald's Game introduces a new audience to one of King's lesser-known stories. And if the trailer is to be believed, it looks like Netflix's film will follow the novel pretty faithfully.
In King's novel, Jessie and Gerald make their way to a secluded cabin in the woods (always safe) to rekindle their marriage and jump start their sex life. When Gerald makes Jessie uncomfortable and ignores her protests, she kicks him off, causing him to have a heart attack, fall to the floor, hit his head, and die.
Soon enough, a dog shows up to eat Gerald's corpse, Jessie succumbs to hallucinations due to panic and dehydration, and she begins reliving trauma from her past.
By the end of King's novel, Jessie's hallucinations turn out to be more complicated than originally perceived. Audiences will have to wait until the film premieres, though, to find out what happens.
Gerald's Game premieres on Netflix on September 29.