The Next Scary Stephen King Adaptation Is Also About Murdering Children
'Suffer the Little Children' is exactly as dark as the name suggests.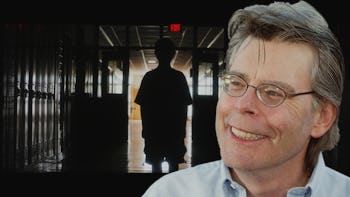 Getty Images
In It, a horrifying monster hunts down and murders children, but in the next Stephen King adaptation, things might be flipped around a little bit. In Suffer the Little Children, a horror short from the collection Nightmares and Dreamscapes, an elementary school teacher becomes convinced her students have been replaced with monsters — and she needs to stop them.
Deadline reports that Sean Carter (Not Jay-Z, but a writer-director whose first feature, Keep Watching, is coming out soon) will helm the Suffer the Little Children adaptation. The original story, which is really quite short, can easily be expanded upon, as King's words are a really just a sublimely creep framework. In it, Miss Sidley realizes that something horrible has happened to certain students in her class, and she's driven to do something terrible to stop them. But, is it all in her head?
That question might be the scariest part of the story, but it's a really creepy bit of work.
"The Stephen King aesthetic has been imprinted into my psyche since I was a teenager, and Suffer the Little Children fits right into that classic King paradigm: a tragically flawed lead character put into a shockingly unimaginable scenario," Carter said in a quote obtained by Deadline. "It's a tiny peek into a mythology that I can't wait to expand into a full-length movie."
Suffer the Little Children has been adapted into a movie before, back in 2006, but given that you probably don't remember that version, which was a minuscule project especially compared with It's recent success, a remake seems in order.