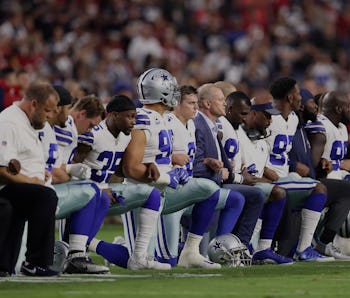 Science
Why 'Taking the Knee' Is Such a Psychologically Powerful Tool
"Their intention is not to demean anyone."
Getty Images / Christian Petersen
On Sunday, dozens of N.F.L. players took part in a nation-wide protest by "taking the knee" or linking arms on the football field. It was more than just a response to President Donald Trump's comments that protesting players should be fired, and it was bigger than showing solidarity with players speaking out against the systematic oppression of African Americans.
According to Neal Rubin, Ph.D., a psychologist with an expertise in human rights who has worked with the United Nations, the act was a gesture promoting unity across the entire country, much like Olympians encouraging international collaboration.
"Their intention is not to demean anyone, but rather uplift and to educate all of us to respect one another," Rubin said in an e-mail to Inverse. "As with Olympians, their unity and identity as athletes adds power to their message."
Rubin's perspective is a stark contrast with Trump's recent inflammatory tweets about protesting players, which led even NFL Commissioner Roger Goodman to denounce them in an official statement as "divisive" and to call out Trump for his "failure to understand the overwhelming force for good our clubs and players represent in our communities."
Sports have been used to promote peace and unification since the time of the Ancient Greeks, says Rubin, and events like the Olympics and even the NFL continue that tradition of teamwork and equality. Rubin believes that NFL athletes who take the knee are promoting the same ideals as ancient Olympians. He tells Inverse:
Just as we see Olympians across countries making their statement of solidarity by celebrating arm in arm at the conclusion of the Games, so have the players in the N.F.L today linked arms in solidarity and brotherhood to make a statement of protest to the world. They state they are affirming our nation's values of dignity and integrity for themselves, their families, their neighbors, and their communities. As free men, it is their right to express these views.
Interviews with the players involved in the protest support Rubin's perspective, not Trump's. When asked why they participated, many players said they believed supporting their peers' right to protest was important and wanted to use their position to empower others.
"Out of love for our country and in honor of the sacrifices made on our behalf, we unite to oppose those that would deny our most basic freedoms," said a statement issued by the Seattle Seahawks, one of many teams that did so in light of Trump's comments. "We remain committed in continuing to work towards equality and justice for all."
Taking the knee as a form of protest began when Colin Kaepernick, former quarterback for the San Francisco 49ers, first did so in 2016 to denounce the oppression of people of color in America. Now, players from other sports have begun to participate as well, with the Oakland A's Bruce Maxwell becoming the first MLB player to participate on September 23.
Despite the positive goals that Rubin and participating athletes say the protests represent, there's no guarantee football fans will respond in kind. Psychological studies have demonstrated that fans often see their teams as an extension of themselves, and feelings of group affiliation cause fans to feel less lonely and have higher self-esteem — powerful psychological effects that keep that fandom super-charged. Rubin suspects that the tension between the president and the professional athletes will continue to "inflame deeply held attitudes," further entrenching existing societal divisions.
"There is no question both children as well as adults idolize athletes and identify passionately with their teams. The President's provocative and divisive comments and behavior will reverberate creating greater divisions inside of and between citizens and families. We will see a tendency among individuals to take sides rather than try to seek common ground. Some will say there is no place in sports for politics as they fear their pleasure as fans will be threatened."
His predictions have already come true, as some fans at FedExField and AT&T stadium booed as players kneeled on Sunday night.
The President, for his part, has been doubling down on his misinterpretation of the protests by consistently tweeting about it. Most recently, he appears to have interpreted the Dallas Cowboys' decision to kneel and then stand during the National Anthem as support for the song. Again, he has misconstrued the protest, which was never meant to be a commentary on the anthem or the president but instead a comment on racial injustices.
Remembering and keeping the real goals of the protest alive will be crucial if it will lead to a positive outcome, says Rubin.
"In the longer term, we must hope that the protests will become an educative moment and that through a better understanding of the players' passion to reject being disrespected and to affirm their right to free speech, that their unity and courage will advance mutual understanding within our society."