'Guardians Vol. 2' Star Says There's One Story It Didn't Finish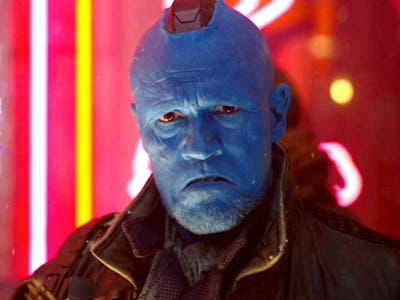 Marvel Entertainment
The Guardians of the Galaxy lost one of their own, Yondu, in the epic sequel Guardians of the Galaxy Vol. 2 earlier this year. But actor Michael Rooker thinks Yondu's story is far from finished.
At a panel at Salt Lake Comic Con on September 23, Rooker opened up about his thoughts on Yondu's death in the film. "You know you have this strange idea of dying," Rooker said to the audience. "I don't understand why people think dying is like, gone."
As the fans in attendance began buzzing, Rooker quickly shot down rumors of a true return. "No! I'm just saying — I'm not giving any hints right now! I'm just saying that Yondu has moved on."
Rooker then brings up the film's visual metaphor of Yondu's "arrow of light" shooting off during his Ravager funeral. "I mean, there was this whole arrow of my essence, right? There's this arrow and it flew off into space. It's going somewhere right? I mean, right? Don't you think? If it's going it could, maybe, perhaps one day come back."
"Hint! That's a hint, Marvel!" Rooker humorously added.
Rooker is certainly on to something. Although critics and fans generally agree Vol. 2 was a very good movie, one of its most-cited faults was how abruptly Yondu became a sympathetic and important figure to Star-Lord and his crew. With his story ending in his sacrifice, there's a general feeling of incompleteness when it comes to Yonudu's place in the MCU.
It's very unlikely Yondu will return, at least in living form, in future Marvel movies, however director James Gunn has revealed that the "Awesome Mix" in Guardians of the Galaxy Vol. 3 will be influenced by Yondu.
The next Guardians of the Galaxy adventure, Avengers: Infinity War, will be released on May 4, 2018.
Ever wonder how the Guardians travel so dang fast? Check out this video of an expert look at wormhole travel in Guardians of the Galaxy Vol. 2.