In Indonesia, Massive Bali Volcano Mount Agung Prepares to Erupt 
More than 1,000 people died the last time it erupted.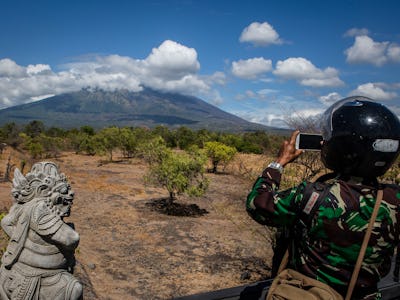 Getty Images / Ulet Ifansasti
Mount Agung, a volcano on the Indonesian island of Bali, threatens to erupt any day now, according to Indonesian authorities. An estimated 75,000 people from the areas surrounding Mount Agung have been evacuated in anticipation of the eruption, which officials from Indonesia's National Agency for Disaster Management (BNPB) say is highly likely.
Experts base this prediction on the tremors they've measured in the area. These tremors, which have abruptly risen in frequency and intensity over the past few weeks, warn of rising magma and increasing pressure inside the volcano. These signals indicate that an eruption is probable.
"The chance that an eruption will happen is quite big. But it cannot be predicted when it will happen," BNPB spokesman Sutopo Purwo Nugroho told reporters on Monday.
The last time Mount Agung erupted, in 1963, about 1,900 people died from the eruption and subsequent rainfall-induced debris flow, known as a cold lahar.
On Tuesday, BNPB released this graphic via Twitter. It estimates the areas that will be affected if Mount Agung erupts:
Aid workers have begun to distribute dust masks and food to residents of the towns surrounding Mount Agung, and many people have sought refuge at temporary shelters or with relatives. Those in the danger zones indicated in the above graphic, which in some places extend 7.5 miles from the crater, have been urged to evacuate.
BNPB has so far distributed 640,000 face masks, 12,500 mattresses, 8,400 blankets, and 50 tents, reports The Telegraph.
The Indonesian Center for Volcanology and Geological Hazard Mitigation recorded 564 tremors on Monday — evidence that the volcano is in a critical phase. The graph below shows a pretty clear picture of how much more frequent these tremors have become, especially over the past couple weeks:
Not only have tremors gotten more frequent, they've increased in intensity by a huge degree:
Geological instruments and communication technology have advanced a lot since the last time Mount Agung erupted, so hopefully, the impending volcanic event will be much less damaging than in the past.