Microsoft, Facebook Finish 'Marea', the Transatlantic Internet Cable
4,100 miles, 1,700 feet underwater, 160 terabits a second.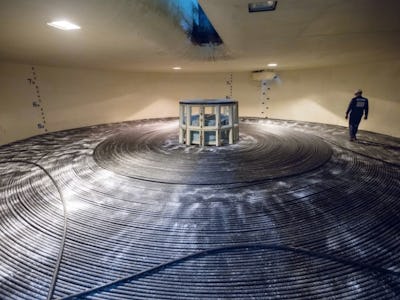 A giant subsea cable running from Virginia Beach to Bilbao, Spain has been completed in a joint effort by Microsoft, Facebook and a telecoms infrastructure company called Telxius. The massive project was completed in less than two years, earlier than expected.
The gigantic cable is 4,100 miles long and runs 1,700 feet below the ocean's surface. For now, it has unmatched technological capabilities. Microsoft said again last week that the cable will provide up to 160 terabits of data per second, and helpfully offered this example: It's equivalent to streaming 71 million HD videos simultaneously. At this point, all three partners aren't saying how much Marea cost.
To put this achievement into perspective, this week marks the anniversary of the the first submarine transatlantic telephone cable system, which was inaugurated on September 25, 1956:
Called the Transatlantic No. 1, it was able to carry 35 simultaneous telephone calls.
Called Marea ("tide" in Spanish), the cable is aimed at boosting Microsoft's global cloud capabilities and it goes from Virginia Beach to Bilbao. The Virginia was selected partly to avoid extreme weather to the north.
"This robust, global infrastructure will enable customers to more quickly and reliably store, manage, transmit and access their data in the Microsoft Cloud," said Frank Rey, Director, Global Network Acquisition, Microsft Cloud Infrastructure and Operations in reference to Marea in an article posted to Submarine Networks, a trade publication for the undersea cable industry.
There are already a number of internet cables on the floor of the Atlantic ocean, as the chart below shows. Of the more than 13 cables spanning the Atlantic only 20 percent of the potential capacity is being used, according to a 2015 CNN report. The last new cable was installed in 2003.
Marea is slated to be operational by early 2018. Parts of the cable that sit near shore have been buried to protect it from fishing and ship traffic, but most of it runs along the ocean floor. Marea does not really look as cool as it should, given what it can purportedly do.
It's about 1.5 times the diameter of a garden hose and composed of eight pairs of fiber optic cables protected by a layer of copper, a hard-plastic layer, and a waterproof coating:
Coiled up on board a ship, however, Marea looks considerably more impressive:
The cable runs south of most of its counterparts, with Microsoft claiming it will help to meet the high demand for data flowing across the Atlantic while combatting the consolidation of similar cables that have been established further north. During Hurricane Sandy, communications infrastructure huddled around the same area was destroyed, shutting down wireless, internet and home phone services for several days on parts of the East Coast.
Facebook and Microsoft also both operate major data centers out of Virginia.
Microsoft says the cable is built with an "open design," explaining that it's interoperable with a variety of networking equipment and can evolve to accommodate future technology. With the completion of Marea, Microsoft has announced Azure Availability Zones, expanding the capabilities of their cloud infrastructure.
If you liked this article, check out this video about a sponge that can change how we clean up oil spills.