How Neal Adams Plans to Bring 'Deadman' Back to Life
DC is about to get a lot darker.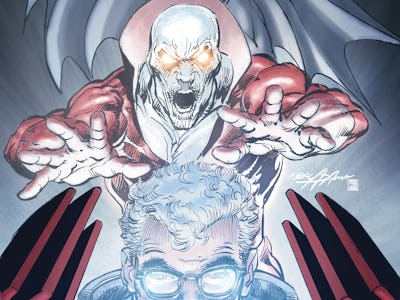 DC Comics
Neal Adams didn't create Batman, Superman, or the Green Arrow, but their comic books would not be the same without him. A prominent artist throughout the late '60s and '70s, Adams's provocative, cinematic art style changed how comic books would look and how stories were told for decades to come. Now, the icon — scheduled to appear this week at New York Comic Con — has returned to one of his lesser-known works, Deadman, in a new mini-series set to be released on November 1.
Deadman #1, which kicks off a new arc "Journey Into Death," picks up where Adams left off more than 25 years ago. "I had to give up Deadman partially because they didn't know what was going on with Deadman," Adams says, referring to virtually everyone making decisions in the comics industry back then. "They didn't understand what was going on in the marketplace and I moved on to minor characters like Batman. But I never told anybody that the story of Deadman continued."
A circus performer when he was among the living, Boston Brand was assassinated during a performance when he became the costumed Deadman. And Deadman has been unable to figure out the true circumstances behind his death — until now. With the help of the world's greatest detective, Batman, "Journey Into Death" will see Deadman uncover the truth as he encounters old foes, like the League of Assassins, a secret cabal led by the enigmatic Ra's Al Ghul.
But as intertwined as Deadman may be in the tales of other DC heroes, Adams tells Inverse that Deadman was always a "personal story" about a character who is not a traditional superhero. "Deadman is not a comic book superhero who has adventures saving the world. That's what people don't understand," Adams says. "He's dead! Talk about a unique story. Deadman was supposed to be an ongoing story about a guy who is dead, not about the adventures of the superhero. When other people started to do Deadman stories, [I knew] I'll be able to pick up my story right where I left it because nobody's doing Deadman, they're doing a comic book superhero. And that's not what it's about."
Adams teases several surprises for "Journey Into Death," namely more information about Boston Brand's life (or, lack thereof). "It's about things we haven't learned about yet. He has a family, he has an older brother and sister. He has a mother and father who are still alive and have a small circus, and they had to make a deal with the devil," says Adams, who clarifies that it's not the literal devil but Ra's Al Ghul.
Deadman does not have the same popularity as Batman, but Adams always believed in the (un)holy power of DC's ghoulish characters. "Deadman is more interesting than the rest of us because he is dead, and still he goes on," he says. "There are things that have never been revealed to us, that dark side of the DC Universe we only bump into once in awhile. What if it's denser than that? This is the story we're starting to tell with Deadman."
And Adams has been preparing for his return to the character all this time. After he left Deadman the first time, Adams pursued other projects, including directing the 1980 Troma Studios movie Nannaz. Since then, the changing cultural landscape — which has normalized Adams's unique, style into the industry standard — has forced him to again rethink how comics are made. Now, he has a background in advertising and film to do so.
"All those things were new and different because the format of comic books had to be picked apart and placed in the hands of artists so they could do new things, and that's what I did," he boasts. The ubiquity of widescreen smartphones has forced readers to change how they enjoy sequential art. "We don't want a square box on a page. We see in panorama. So we design our pages for the audience to do that."
Adams isn't the first to go widescreen for comics, but his layouts — based on preview illustrations courtesy of DC — reveal just how "un-comic book" Adams's new Deadman will be.
"There's these elements people haven't explored in comics that I now get the opportunity to take what I learned in the past 25, 30 years and apply them to Deadman in a different way," Adams says.
The illustrator holds no grudges against his successors for changing Deadman, or for that matter, any of his other legacies. After all, fans may love his Green Arrow and Batman, but Adams didn't make those characters in the first place. "The reason you create something is for other people to play with," he says, "I'm not in a position to say yay or nay. I'm just as interested as you are in seeing their interpretation."
Deadman #1 will be released on November 1.