People Think Darth Vader Will Invade the 2018 'Han Solo' Movie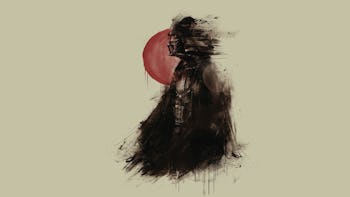 Marie Bergeron
The Force might be strong with Darth Vader, but even he can't stop Star Wars fans from spreading rumors. Yet another "report," this one published on Wednesday, has said Darth Vader will join a young Han Solo in his upcoming standalone Star Wars film, the second in Lucasfilms' anthology series.
What Happened
Geek pop culture site That Hashtag Show reported the rumor on Wednesday, which says an unknown person in a Vader costume was seen galavanting around the young Han Solo movie set. It cites an anonymous "source close to the production," which means Star Wars fans should probably take this news with a grain of salt.
Nothing is confirmed.
The supposed costumed Vader isn't the first such rumor to swirl around the Han Solo flick like an unruly cape. Back in July, Rogue One Vader actor Spencer Wilding canceled an appearance at a convention, prompting the con's organizers to say Wilding was "filming the newest film in the Star Wars Universe."
It turned out they were very wrong, and Wilding took to Facebook two days later to correct the mistake.
What it Means
As stated, Darth Vader rumors have been circling the young Han Solo movie for a while. If the "source" isn't straight-up bullshitting, then this might mean Vader will make some kind of appearance in the as-yet-untitled Han Solo flick.
What's Next
Be on the lookout for any more Vader rumors or, if Lucasfilm is kind, concrete details in the meantime.
The untitled Han Solo Star Wars film is expected to premiere in theaters on May 25, 2018.
If you liked this article, check out this video of Darth Vader's craziest moments in the Star Wars comics.