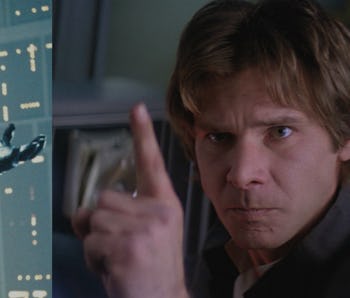 Entertainment
Looks Like Darth Vader Isn't in the 'Han Solo' Movie After All
Lucasfilm
It seems Darth Vader won't be chasing down a young Han Solo in the Millennium Falcon anytime soon. One-time Darth Vader actor Spencer Wilding had to set some things straight on Thursday regarding his not-a-role role in the upcoming, as-yet-unnamed Han Solo standalone film in the Star Wars universe.
FandomFest, a convention in Louisville, Kentucky, mistakenly attributed Wilding as being a part of the Han Solo film after a long-winded miscommunication. The actor was said to have canceled an appearance at FandomFest because he was, supposedly, filming the latest Star Wars film (which is, of course, the Han Solo standalone).
The internet dissolved into chaos as fans attempted to figure out just how Vader would fit into Han Solo's past, a reaction that really shouldn't have come as a surprise. Star Wars fans aren't exactly chill about these kinds of things.
Wilding posted to his Facebook page on Thursday to correct the mistake, writing: "So just to let u all no I am 100% not filming on starwars… the comic con promoters of the show put 1on1 together and got 69 lol and they just try to guess y I canceled and came up with that … so sorry guys defo not true they have removed it of there site now [sic]."
While Vader made a few fabulous cameos in Rogue One: A Star Wars Story (with Wilding in the suit for part of it), it seems a young Han Solo will have his own set of troubles to deal with outside the caped baddie of the Star Wars universe.
The Han Solo standalone is expected to premiere in theaters on May 25, 2018.