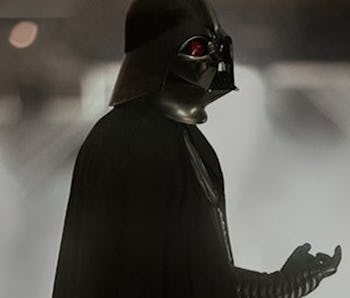 Entertainment
Actor News Hints Darth Vader Could Be in the 'Han Solo' Movie
If Darth Vader appears in the upcoming standalone young Han Solo movie, he'll be ten years younger than he was when he went on a murder-spree in Rogue One. News of a specific actor joining "newest film in the Star Wars Universe," has led many to the conclusion that Vader might have a cameo in the Han Solo movie, similar to his role in Rogue One.
On Wednesday, Comicbook Movie reported that actor Spencer Wilding canceled his upcoming appearance at a convention in Louisville, Kentucky. The reason given by the convention organizers was that the actor was now "filming the newest film in the Star Wars Universe." Wilding played Darth Vader's body in at least one scene in Rogue One, though he's played monsters and aliens in everything from Doctor Who to Guardians of the Galaxy.
While its possible that Wilding could be filming scenes for another film, and the organizers of of the convention — FandomFest — clearly state on their website that a Star Wars movie was the reason the actor was no longer attending the convention.
Because the Han Solo movie is now being directed by Ron Howard, it stands to reason the story and direction of the film is different than it was while under former directors Chris Mille and Phil Lord. Which means, Darth Vader being folded into the plot of the Han Solo movie could be late-game decision and not originally in the screenplay. What could Vader be doing in this movie? The good money is that he's not teaming-up with Han Solo to smuggle illegal goods, but instead, doing something that screws over Lando, Han and Chewbacca. Will this prequel film overtly attempt to foreshadow Lando's previous dealings with Darth Vader? Will the canon connections be that on-the-nose?
The other possibility is that Darth Vader's ghost will appear in The Last Jedi or that a flashback will feature Darth Vader. Though, that possibility seems less likely if only because Darth Vader's ghost should — in theory — look like Hayden Christensen.
The Han Solo movie, with or without Darth Vader, is set to hit theaters on May 25, 2018.