Electric Scooter Company Gains $300 Million, Considers A.I. Uses
It says it's not a scooter company at all, but a technology infrastructure company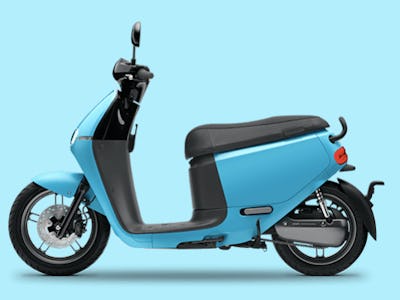 Gogoro
The Gogoro electric scooter looks like a toy come to life, but it's just raised a very serious amount of money, ensuring that more people take seriously its borderline adorable 6.4 kilowatt motor.
The two-year-old, Taiwan-based startup announced this month it had received a massive $300 million Series C round of funding. Gogoro offers its scooter subscribers an app-based sharing platform to quickly and easily swap out dead batteries for fully charged ones at stations that dot a metro area. Imagine: no waiting to charge a battery. In addition to this distinguishing feature — one Tesla appears to be investigating — the company may soon be looking into more than just scooters, and looking to do so with artificial intelligence.
"Gogoro is utilizing the new funding to increase research and development in the AI and machine learning of its network infrastructure as well as in new areas," a spokesperson for the company tells Inverse. In practice, this tech could be used to provide drivers with special navigation features and ride enhancements to personalize their ride.
The company of 1,000 employees tells Inverse it does not have immediate plans to make moves into American cities, where bike-share and ride-share services are taking off. But with a top speed of about 28 miles per hour, these scooters are a logical fit for congested cities like New York City. Moreover, the company has received thousands of emails and social media posts from would-be American users asking it to expand into the country.
The fact that riders can simply swap the lightweight lithium-ion battery that powers the scooter they've rented at "GoStations" is what truly sets Gogoro apart. Per its CEO, Horace Luke, this setup costs just a fraction of Tesla's superchargers. While Tesla electric vehicles can be charged at home, unlike rentable Gogoro scooters, the car batteries take a considerable amount of time to charge on the road. It's something that drivers traveling long distance often consider an annoyance. But Gogoro scooters — or any future innovations from the company — could be "refueled" even faster than one that gases up with diesel.
The company recently debuted one GoStation in Taiwan's New Taipei City that is entirely solar-powered. That model could be huge for the future of green transport.
As of now, Gogoro's scooters are available to purchase in its home country of Taiwan, the scooter capital of the world, and rent them in Paris and Berlin. According to the company, 34,000 Gogoro scooters have been sold so far, saving a million gallons of gasoline.
The new financial backers, who just added $300 million to the company's total $480 million in investments, come from Singapore, Japan, France, and the UK.
Though specific plans for the capital haven't been disclosed yet, it seems likely immediate expansion will be seen in Southeast Asia and perhaps the countries where funding has come from, which would potentially increase Gogoro's presence in the West with the move to additional European countries. The company's larger goals of disrupting the electric vehicle market, however, is clear.
"Gogoro doesn't consider itself a scooter company, but a technology infrastructure company focused on urban energy management and distribution," the company's CEO Luke told VentureBeat. "Our technology will power other vehicles and industries."
Whether this will mean powering "e-bikes" that are expected to grow over $24.4 billion in revenue by 2025 throughout the world or larger vehicles like "smart cars" remains to be seen. One thing is for sure, the Gogoro model makes it way easier to picture a future where you swap out your car battery with the same ease you change the Double A's in your remote control.
If you liked this article, check out this video of an electric bike that can carry you and all your stuff.