Netflix Doesn't Have Good News About 'The Punisher' Release Date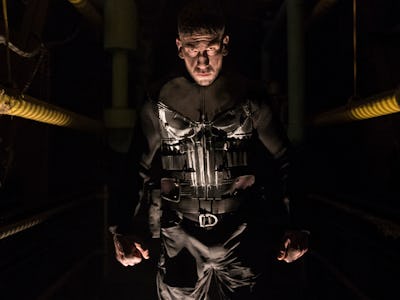 Netflix
Marvel fans who were hoping to binge-watch The Punisher on Netflix next month are in for a disappointment. In Netflix's October newsletter, which lists all the new titles that will begin streaming as well as films and TV shows that will be removed, the next Marvel series was not listed as among the arrivals.
What Happened:
Early morning on September 20, Netflix released a document that lists all the movies and TV shows that are coming and going on the service. Marvel's The Punisher, which is expected to arrive sometime in the reamaining calendar year, was not listed at all.
What It Means:
After The Defenders, MCU fans are eager to binge-watch The Punisher, which stars Jon Bernthal (The Walking Dead) as the iconic anti-hero vigilante. But the series, which Netflix has repeatedly confirmed as coming out in 2017, still does not have a definitive release date. And all 31 days of October will be without The Punisher, which makes the wait all the more — well, punishing.
What's Next:
November is starting to look more and more like a possible release window for The Punisher. October seems reserved for Season 2 of its breakout hit Stranger Things, and releasing The Punisher around the same time could threaten to drown out either show. For what it's worth, Netflix dropped the new trailer for the show right after the October newsletter went out, but the violent new trailer still censors the exact release date:
Here's the full trailer:
Marvel's The Punisher will be released later this year, at some point.