How Amazon Alexa Smart Glasses Will Avoid Google Glass's Failures
Amazon is getting into wearables.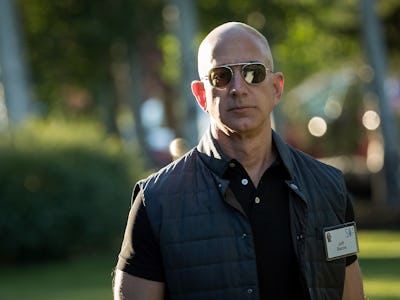 Getty Images / Drew Angerer
Amazon want to make a pair of smart glasses, and it's going to avoid making the same mistakes as Google. The company plans to take its Alexa artificial intelligence voice assistant to the next level by creating a wearable that allows users to call on Amazon's service at any time, anywhere they may be.
The failure of Google Glass is one of the most high-profile examples of how wearables can go wrong. Launched in 2012, early adopters were lambasted as "glassholes," with the camera raising concerns that the user may be recording and the screen hovering in front of the eye making others uneasy about whether the person was fully engaged in the conversation.
The Financial Times reported on Wednesday that Amazon's entry into the space would be different. It would likely ditch the screen and camera, giving it a clear focus on voice-activated commands while ditching functionality that may detract from its primary function.
Amazon has been slowly building out Alexa with a number of features to make it more useful. The assistant, which powers the Echo voice speaker, can now call on the Microsoft Cortana assistant to complete some tasks. The two companies hope that in the future, Google and Apple will consider adding their voice assistants into the mix.
Beyond the glasses, another product Amazon is reportedly working on is a smart home product that would bring a security camera system to its existing lineup. This would tie into Amazon's other products and services, for example by displaying a live feed of the camera on the Echo Show touchscreen device.
Amazon's foray into wearables may seem odd considering how often Google Glass is commonly referenced as a failure, but it was the predecessor to a number of successes in the space. Apple announced earlier this month that its watch is now the number one watch in the world in terms of sales. Snap's video recording Spectacles have generated mass hype due to their scarcity, while the addition of an LED light that illuminates when recording has avoided the same privacy concerns that plagued the Glass.
Whether Amazon's smart glasses end up like the Apple Watch, a growing wrist-based method to access Siri, or more like Google Glass, remains to be seen.
If you liked this article, check out this video about the tween version of Google Glass: Snapchat Spectacles.