Alexa And Cortana Join Forces Into One Super A.I.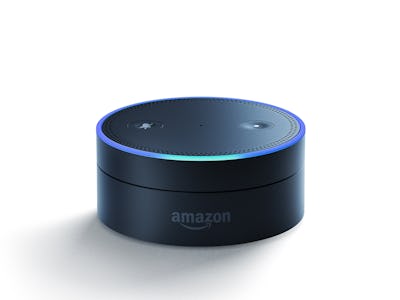 Flickr / goatandtable
Amazon revealed on Wednesday a new partnership that will link the Alexa voice assistant to Microsoft's Cortana counterpart. From later this year, Amazon Echo users will be able to say "Alexa, open Cortana" and access the other assistant's unique features, while users on a Windows 10 PC will be able to say "Cortana, open Alexa" to achieve the same result.
"The world is big and so multifaceted," Jeff Bezos, CEO of Amazon, said in a statement. "There are going to be multiple successful intelligent agents, each with access to different sets of data and with different specialized skill areas. Together, their strengths will complement each other and provide customers with a richer and even more helpful experience."
The partnership could signal the start of a new era of voice assistants. Instead of siloing off progress into separate products, consumers may one day speak whatever command they feel like, calling on the most appropriate artificial intelligence to complete the task. Bezos told the New York Times that smart assistants could one day route commands to the most appropriate assistant without any user intervention.
"In my view of the world, because that would be best for the customer, that's probably what eventually happens," Bezos said.
For now, the partnership will allow home users to complete more tasks on each company's devices. For example, an Amazon Echo user might want to access their Outlook work calendars. That's a task best suited to Cortana, which offers deep integration with Microsoft's suite of products. On the other hand, a user that wants to order more toothpaste from Amazon on their Surface Laptop will probably want to call on Alexa to access the web store.
It's baby steps for now, but the future is bright. The initial partnership first came together at a Microsoft summit in May 2016. The two companies are open to the idea of bringing Apple and Google on board, which develop Siri and Assistant respectively.
"Hopefully, they'll be inspired by it," Microsoft CEO Satya Nadella told the New York Times. "At least that would be my hope."
With Apple planning to launch the iPhone 8 and iOS 11 next month, and Google hard at work on Android Oreo, it remains to be seen whether either company will consider the idea for its current products or a future release.