Why Tesla Cars Already Hold Secret of Boring Company's Success
A longtime Elon Musk ally sees big potential in little tunnels.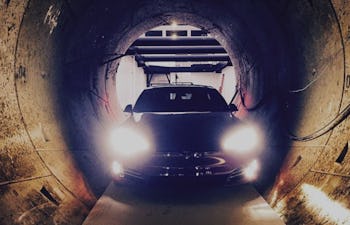 Elon Musk likes to think big. Space X's ultimate goal is sending humans to Mars, and Tesla wants to eventually put a self-driving electric car in every garage and solar panels on every roof. But Musk's venture into tunneling, the Boring Company, might succeed not because of its big idea, but because it can keep things small — thanks to Musk's growing fleet of electric cars.
That's the take of Silicon Valley investor Steve Jurvetson, a longtime Musk ally who sits on the SpaceX and Tesla boards. Sitting down with TechCrunch editor Connie Loizos at Disrupt SF 2017, he pointed out the big advantage of car tunnels through which only electric vehicles travel.
"The insight I think that's so powerful, is that if you only envision electric vehicles in your tunnels, you don't need to do the air handling for all the carbon monoxide, the carbon dioxide, basically the pollutants from your exhaust," Jurvetson said.
The tunnel doesn't have to be as big if it doesn't have to worry about all the noxious fumes kicked up by gas-powered cars, meaning the tunnel can be much smaller than it otherwise would be. And because the tunnel's volume increases massively with every extra foot in diameter, those add up to some big savings. The whole project becomes so much more manageable and more nimble than it would be with even a slightly bigger tunnel.
"The whole concept of what you do with tunnels changes," said Jurvetson.
To that end, Musk shared this photo late last month of a Tesla Model S inside the Boring Company's test tunnel, currently being dug under the company's headquarters.
Jurvetson said he would love to invest in the Boring Company, which is not yet open to outside investors. "I personally love the idea, even more than the Hyperloop idea, of digging these tunnels."
Musk has already suggested the Boring Company could be used to cut tunnels for future Hyperloop connections between cities, but Jurvetson again suggested that thinking smaller is likely how the company will succeed.
"Thinking of running under highways, small local links, that's very compelling," he said. "The Hyperloop concept makes more sense when you're commuting along a longer distance. [That] needs a longer tunnel, a bit more complexity, and tens of billions of dollars of capital. To me that comes later. You'll probably cut your teeth on what the Boring Company has shown, which is taking normal cars through a tunnel. We can all understand that use case, that's compelling in L.A., right now, and everything's a little simpler to do that."
If you liked this article, check out this video about the nerdy way Elon Musk comes up with names for his inventions.