Emilia Clarke Is Doing Something Very Different With Daenerys' Hair
The actress isn't wigging out.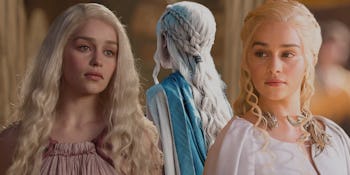 HBO
The Targaryens in the world of Game of Thrones are known for their fair features and silver-blonde hair, so it's perhaps understandable when fans are surprised that Daenerys actress doesn't actually rock this iconic look in real life. For the first seven seasons of HBO's smash, Emilia Clarke has worn a wig, but an excited Instagram post suggests that might change in Season 8.
What Happened
On Tuesday, Clarke posted a selfie showing her newly platinum-blonde locks. Clarke, who is a brunette in real life, now resembles the Mother of Dragons even when the cameras aren't rolling. Her accompanying caption was plenty excited about the change, but she took time to shout-out the show's hair department for seven seasons worth of work on Dany's elaborate wigs.
I done did it.
Mother of dragons meet Emilia. Emilia meet mother of dragons. If you squint just so you might never know. 🐉⚡️ All hail to the magnificence of @kevalexanderhair and @candicebanks74 the genius creators of 'KHALEESI WIG' (and not forgetting all the hair on game of thrones for 8 glorious years) for at long last making this magical moment a reality
What It Means
Given the caption and references to the Game of Thrones crew, it seems unlikely that Clarke dyed her hair just for fun. Looking at the picture, it also appears to be shorter than the wigs she typically wore were. If what we're seeing in the picture is an indication of what we're going to see in Season 8, there are a couple possibilities. Dany could change her hairstyle to better fit in with her would-be subjects in Westeros.
Perhaps a shorter, shoulder-length haircut envokes the style of the old Targaryen rulers. Both of her brothers, Rhaegar and Viserys had shorter hair, and her father the Mad King wore it in a similar manner. Her father wasn't exactly beloved, though, so maybe it doesn't make sense for her to ape his look. Maybe Dany just saw Cersei's short hair and felt inspired. It wouldn't be the first time.
Fans of the Song and Ice and Fire books know that Dany has actually be rocking a much shorter haircut for most of the story. At the end of the first book, when she walks into Khal Drogo's funeral pyre and gives "birth" to her dragon children, all of her hair burns off. The show did not shave Clarke, obviously, but it's interesting that there seems to be a big change coming for the final season.
What's Next
It's going to be a long time until Season 8 premieres, and information about Game of Thrones final season will be slow to emerge at first. Chances are we won't see an official picture of Clarke in-character as Dany for quite some time, so any clues about what's going to happen with her character will likely have to be gleaned from social media. Hit that "follow" button.
If you liked this article, check out this video about zombie dragon fire in Game of Thrones.