Emilia Clarke Basically Says Dany Will Survive 'GoT' Season 8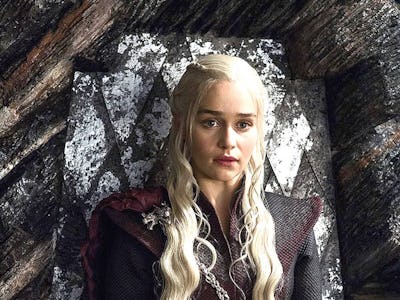 HBO/Rolling Stone
Ever since Ned Stark lost his head in Season 1 and Robb Stark died in Season 3, Game of Thrones has established itself as a show where no main character is safe and all men must die. But in an interview with Rolling Stone on Wednesday, Emilia Clarke didn't even try to pretend that Daenerys Targaryen might kick the bucket before the eight and last season.
Apparently "all men must die" does not extend to dragon queens.
"It's a really interesting season in terms of some loose ends that have been tied," she said about Season 7. "Some really satisfying plot points, some things where you're like, 'Oh, my God. I forgot about that!' Rumors are going to be confirmed or denied…I have no doubt there'll be prequels and sequels and who knows what else. But I am doing one more season. And then that'll be it."
Of course, she could always be appearing in Season 8 as a White Walker, but that's unlikely. Season 7 will see Daenerys landing in Dragonstone, the old Targaryen stronghold last seen under Stannis Baratheon's rule.
In order to get the Iron Throne, she'll have to fight Queen Cersei's forces and establish peace with Jon Snow, the King in the North. But Clarke is spilling the beans that Daenerys won't die in the process — at least, not yet.
Game of Thrones Season 7 premieres July 16 on HBO.