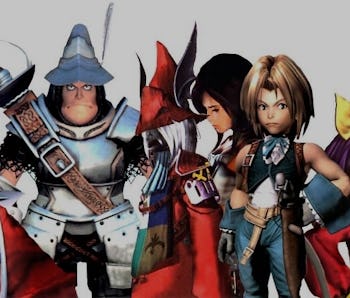 Gaming
One of the Best 'Final Fantasy' Games Ever Is Now on PS4
'Final Fantasy IX' is already available in the PlayStation Store.
Square
Square-Enix is bringing Final Fantasy IX — one of the series' all-time greatest hits — to the PlayStation 4 in a new re-release of the beloved game. Fans can relive Zidane's adventures kidnapping Princess Garnet and saving more than one world from utter destruction.
What Happened
During a press conference for Sony Interactive Entertainment's Tokyo Game Show 2017, Square-Enix announced a PlayStation 4 re-release of 2000's Final Fantasy IX — and surprise, it's already available in Japan and North America.
The game is available from the PlayStation Store right now and includes a slew of Trophies and achievements that are nearly impossible — like jumping rope 1,000 times. HD versions of classic cutscenes augment an already great story and auto-save is another welcome improvement. There's also a series of "booster" features that can turn off random encounters, put the game into a high-speed mode, and even allow you to instantly master any character's abilities.
What It Means
The many improvements on this port offer a more streamlined gaming experience without the time-consuming grind to level up your characters that usually comes with a Final Fantasy game.
A smartphone and Steam version of the game came out last year, but this is the first time fans get an updated console version of the game since the PS3 and PSP versions dropped in 2010.
Most regard the ninth installment as a return to "classic" Final Fantasy form with its more fantasy-oriented aesthetic. Final Fantasy VII, VIII, and X, by comparison, leaned heavily into techno-futuristic settings with advanced technology utilized alongside magic. But Final Fantasy IX has knights, mages, a dragoon, two summoners, and four politically-divided kingdoms.
Square-Enix already released a port of Final Fantasy VII but seems to have skipped VIII entirely — at least for the PlayStation 4. It's a shame because the eighth installment was a thrilling experience in its own right, even if almost everyone regards VI, VII, IX, and X as better.
What's Next
All that's left for you to do is go to the PlayStation Store and buy Final Fantasy IX right now.