'Final Fantasy VII's HD Remake Gameplay, Episodic Release Means It's Not 1997 Anymore
The upcoming HD remake of 'Final Fantasy VII' isn't just putting a new coat over an old car.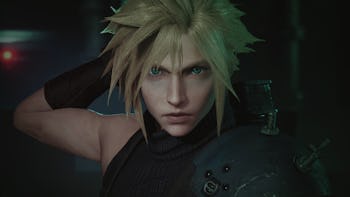 Square Enix
At PlayStation Experience 2015, a new trailer for Final Fantasy VII Remake — a current-generation update to Square Enix's most popular Final Fantasy entry — emerged with crucial new details revealing modern gameplay and an episodic distribution model. According to the press release, the game will be released in installments, and interviews with Japanese gaming outlets Famitsu and Dengeki Online reveal the developers intent to make a quicker, faced-paced game akin to Kingdom Hearts and Dissidia Final Fantasy.
In an interview with Famitsu and Dengeki Online (via IGN), director Tetsuya Nomura said they wanted "to do something on the level of Dissidia Final Fantasy" hoping to achieve a "stress-free" battle system. Dissidia Final Fantasy was a fighting game using Final Fantasy characters released in 2009 for the PlayStation Portable.
To illustrate the game's "degree of action," Nomura said "it's Dissidia Final Fantasy, then Kingdom Hearts, then Final Fantasy VII Remake." He further added: "There won't be any actions that require a technique. By using the new system, we want to do action battles while also being able to fight while thinking strategically."
In discussing the game's periodic release, producer Yoshinori Kitase explained that a full remake of Final Fantasy VII is too "massive [of an] undertaking" and that entire parts would have to be cut. "Producing a proper HD remake of Final Fantasy VII that maintains the same feeling of density of the original results in a volume of content that couldn't possibly fit into one installment," he said. "If we were to try to fit everything into one installment, we would have to cut various parts and create a condensed version of Final Fantasy VII."
While it will be annoying for gamers to wait even longer for the full experience after the game's far-flung release (a release window hasn't been announced), the method does allow for deeper exploration into areas of Midgar that players couldn't access back in 1997.
"[I]f we're remaking this world, we want to add in areas like this and depict them with real detail." Kitase alluded that some content will be cut regardless "for various reasons" (though Cloud's cross-dressing is totally in), he went on to say that "the overall amount of content is only going to increase."
Final Fantasy VII Remake will be released for the PlayStation 4, sometime.