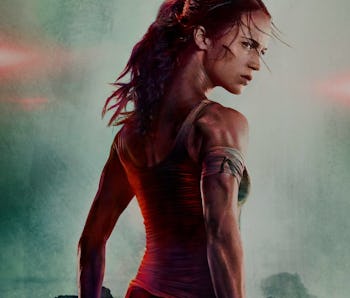 Entertainment
'Tomb Raider' Photo Creates Controversy Ahead of New Trailer
Warner Bros.
Lara Croft is coming back to the big screen after more than a decade away from the spotlight. But the new poster for the Tomb Raider reboot is sparking a pretty big reaction on Twitter. The original franchise was infamous for the absurd way it exaggerated and overly sexualized women, but that's not quite what the controversy here is. Instead, it's a pretty epic photoshop fail. Human necks just don't work that way.
What Happened
On Monday, Warner Bros. released the first poster for Tomb Raider, starring Alicia Vikander (Ex Machina) as the iconic video game heroine, that will be released in 2018. Ditching the short shorts and thigh holsters in favor of a grittier survivalist, as seen in the modern reboot games, there's almost no question Vikander looks awesome as Lara Croft.
But the poster, which continues the exhausting trend of "Protagonists Looking Backwards With Their Necks Twisted," is getting pounded on Twitter for making Vikander look like she's turning her neck to an uncomfortable degree.
First, here's the poster in all of its, uh, glory.
As soon as the poster hit the web, Twitter began having a field day. The most common question: What the heck happened to her neck?
What It Means
As others pointed out, there are some unfortunate trends going on in movie posters. For one, there are probably too many movie heroes/anti-heroes turning their backs to the audience a bit too often. A viral post on Imgur pointed this out in 2013, and things haven't let up since; Captain America: The Winter Soldier, Guardians of the Galaxy, and even Batman v Superman have all been guilty of this trend.
Another trend people are sick of has just been bad photoshopping, even for some of the biggest Hollywood blockbusters. Spider-Man: Homecoming, Independence Day: Resurgence, Black Panther, and Logan have all had WTF-worthy examples of artists misunderstanding how the human anatomy works. Or just plain ol visual taste.
Either way, the folks behind Tomb Raider forgot what's maybe the most important thing — how the video games have done it.
What's Next
The trailer for Tomb Raider will premiere on Tuesday. Presumably, Lara Croft's neck won't look so bizarre in action.
Tomb Raider will be released in 2018.
Oh, hello. You've made it to the end of this story! Congrats! Now tell us how to make Inverse better. Take our user survey and maybe win an Amazon gift card! ⚡️