Why Alicia Vikander is the Perfect Lara Croft for the 'Tomb Raider' Reboot
The Oscar-winner has range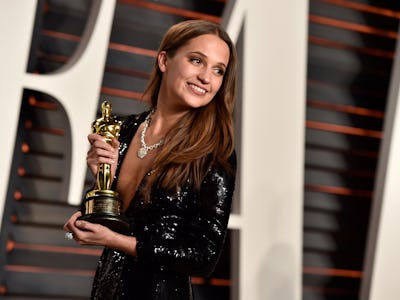 Getty
Swedish actress Alicia Vikander has been cast as the ass-kicking Lara Croft in the reboot of Tomb Raider, according to Deadline, making her the official inheritor of the role first played by Angelina Jolie in 2001 and then in 2003.
First published by Eidos Interactive and now by Japanese publisher Square Enix (best known for the Final Fantasy series), the first Tomb Raider was released on PlayStation in 1996 and became an instant hit.
Croft started out as an avatar for the male gaze, but has been treated better in recent years. The notorious (and wildly successful) action-adventure series was rebooted in 2013 by Crystal Dynamics and introduced a grounded and realistic Lara Croft obsessed with uncovering the existence of ancient civilizations. The comic book series from Dark Horse is also pretty great.
Vikander has displayed a wide range: In the last year, she has won an Oscar this year for her role in the period drama The Danish Girl, earned strong acclaim in Alex Garland's sci-fi thriller Ex Machina, and co-starred in last year's action remake The Man From U.N.C.L.E. (she also featured in the bomb Seventh Son). Before Tomb Raider, she will show off some action chops in the next Jason Bourne movie.
Though still just 27-years-old, Vikander is no rookie, as she began acting in her native Sweden as a child. Her on-screen credits go all the way back to 2002, and she is just as comfortable in period drama and heady sci-fi as she is kicking ass, which should give this new generation's Croft an appropriate emotional and physical skill set.
After winning an Oscar for Best Supporting Actress and playing second fiddle to Matt Damon in Jason Bourne, it's only right that one of Hollywood's brightest young talents gets her own franchise.