Watch the Punisher Engage in Guerrilla Warfare in New Netflix Teaser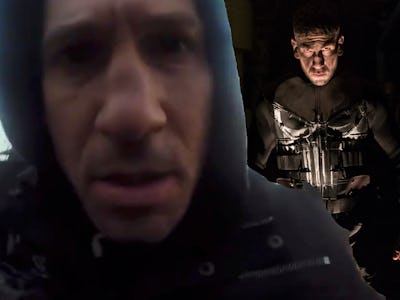 Netflix
The Punisher is coming, and he is not messing around. In yet another new teaser for Marvel's The Punisher, set to arrive on Netflix later this year, Frank Castle eliminates a military squad with sick guerrilla tactics.
What Happened:
In the teaser, which hit the web on Monday, shows Jon Bernthal as the violent vigilante Frank Castle taking down his enemies in a style that's best described as Rambo meets The Blair Witch Project. The teaser is almost entirely shot with body cams and handheld footage, depicting Castle killing a group of soldiers who are likely assigned to hunt him down. Punisher, being a one-man army, makes quick work of them all.
What It Means:
Despite being outnumbered against soldiers of the world's best military, the Punisher shows how deadly efficiency edges out strength in numbers. Though Frank Castle probably doesn't have the raw power of Captain America or the Winter Soldier, Castle goes where Steve Rogers would never. This makes Castle's place in an MCU power ranking a very compelling question.
What's also pretty shocking is seeing Frank Castle take out members of the U.S. armed forces. In the comics, Frank Castle hunts down whoever perverts justice as well as those who did him wrong. In the MCU canon especially, Castle seems pretty unfriendly towards the establishment. It's no wonder that he's teaming up with his pal Microchip, who's being positioned as a sort of Edward Snowden type in the Marvel Cinematic Universe.
What's Next:
Netflix and Marvel will continue to release teaser trailers until a formal premiere date is announced. Perhaps even a surprise premiere is in store. As Punisher just demonstrated, he's a master of surprises.
See the teaser below.
Netflix still hasn't revealed the release date for Marvel's The Punisher.