Why the 'Stranger Things' Emmy Snub Isn't a Big Deal
The Netflix darling will be fine despite losing out to Hulu's 'The Handmaid's Tale.'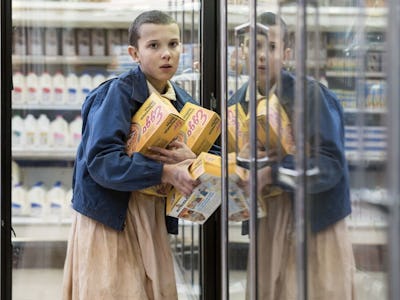 Netflix
The 69th Emmy Awards were pretty nice, but the night could have gone better for Netflix's smash-hit Stranger Things, which didn't take home a single award on Sunday despite being a serious contender for the night's top prizes. But, don't worry — Stranger Things hasn't been banished to the Upside-Down. Eleven and the gang will be just fine.
What Happened
Stranger Things won five awards during last week's Creative Emmy Awards, but despite being nominated for three big awards at the main ceremony, the '80s retro-horror show went home empty-handed. Instead, Hulu's The Handmaid's Tale won for Best Drama, and David Harbour and Millie Bobby Brown, who were nominated for Best Supporting Actor and Actress, were edged out by John Lithgow (The Crown) and Ann Dowd (The Handmaid's Tale) as well.
What It Means
While the loss might've come as a surprise to some, it makes sense. The Handmaid's Tale is a great show on its own merits, and it winning the top prize made for a better narrative. The ceremony itself was pretty pointedly anti-Donald Trump (even considering Sean Spicer's extremely wrongheaded cameo), and The Handmaid's Tale struck a chord with many viewers for being uncomfortably relatable a couple months into the Trump Presidency.
Stranger Things isn't as Important with a capital "I" as The Handmaid's Tale is perceived to be, so it's understandable that TV's circlejerk big night opted to honor the seemingly more prestigious show. But, Stranger Things's lack of ambition is part of its appeal. It's a fun, earnest spooky story that reminds viewers of childhood, the 1980s, Dungeons and Dragons, Steven Spielberg and Stephen King. It's extremely good at being what it is, and viewers love it for that. Heck, Stranger Things had enough buzz surrounding it that Netflix ponied up the cash for a Super Bowl commercial promoting Season 2 long before the TV show's airdate. That kind of stuff is usually reserved for blockbuster movies, not streaming genre-fare with a far-off premiere date. Stranger Things will be fine, and the fact that it was nominated for three Emmys at Sunday's ceremony is really just icing on the cake.
What's Next
Stranger Things Season 2 will premiere on October 27. The sophomore season will almost certainly go home empty-handed at the 70th Emmy Awards as well next year, because Game of Thrones will be eligible again, and that show absolutely cleans house.