Hurricane PTSD Is Real, Warns Public Health Expert in Reddit AMA
The effects of Harvey and Irma linger long after the flood.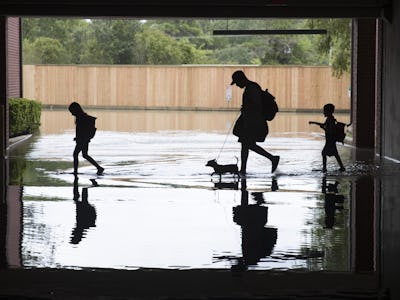 Getty Images / Erich Schlegel
Hurricane Harvey dumped an unprecedented 24 trillion gallons of water on Texas and Louisiana, taking the lives of 70 people. Days later, as Hurricane Irma ripped through the Caribbean and southeastern United States, another 53 people were killed. Now, the immediate horror of the storms is over, but for many survivors the worst of their effects may just be beginning.
In a Reddit AMA on Wednesday, epidemiologist and Dean of Boston University School of Public Health Sandro Galea, Ph.D., confirmed that, after experiencing an event as violent as a hurricane, people can indeed develop post-traumatic stress disorder (PTSD).
Responding to a user asking which people are most vulnerable to PTSD after a hurricane, Galea wrote, "1. People who are injured by a disaster 2. People who lose loved ones in an event 3. People who lose possessions (e.g., houses, pets)."
According to the U.S. Department of Veterans affairs, which oversees treatment for Americans in service who develop PTSD, it's "normal to have stress reactions after a traumatic event." The nature of the trauma, it seems, doesn't really change the way the symptoms manifest. People can get PTSD after witnessing human violence or getting diagnosed with a life-threatening illness; likewise, it's possible to develop symptoms after experiencing a life-changing storm.
PTSD, Galea writes, is "a disorder with a fixed symptom set regardless of the etiology." Those symptoms often include having nightmares or flashbacks, undergoing negative changes in beliefs and feelings, becoming jittery and "hyperaroused," and deliberately avoiding situations that trigger memories of the event. These symptoms, which are very distressing and can last longer than three months, can severely disrupt a person's work or home life, and are often best managed with the help of a mental health professional.
Dealing with mental health issues may not seem a post-hurricane priority, compared to rebuilding literal homes or making sure clean water is available, but America's recent hurricanes have demonstrated otherwise. Three years after Hurricane Katrina ravaged New Orleans in 2005, a study in Molecular Psychiatry showed that the prevalence of PTSD in Alabama, Louisiana, and Mississippi rose from 15 percent a few months after the storm to 21 percent a year later. The same study showed that the prevalence of people with suicidal thoughts rose from 2.8 percent to 6.4 percent in the same time period.
In an interview with Nature in 2015, Louisiana State University clinical psychologist Joy Osofsky, Ph.D. explained that she and other mental health professionals treated thousands of traumatized people — some described watching corpses float by — in makeshift treatment centers on cruise ships in the Mississippi River.
After Hurricane Katrina, some researchers argued that better management could have prevented the mental health effects of the experience from getting out of hand. In 2015, a study in Social Science and Medicine underscored the link between resilience and strong social support networks, emphasizing the importance of keeping networks intact both before and after the event. Doing so is not always simple, however, as families are often split up in slapdash efforts to house displaced people.
The resilience of a city as a whole can make a big difference. In general, communities take about ten years to bounce back after a hurricane, said Tulane University Traumatology Institute director Charles Figley in an interview with the Atlantic in 2015, though he noted that New Orleans residents were particularly tough and bounced back more quickly than expected.
Efforts to support mental health in areas devastated by Harvey and Irma are, fortunately, already underway. Anticipating the need for extra help in the wake of Hurricane Harvey, the Texas Medical Board has opened the state's doors to out-of-state providers, and the American Psychological Association announced it would dispatch its Disaster Resource Network to offer psychological counseling on the ground. And in Texas as well as Florida, the American Red Cross is organizing disaster mental health volunteers to offer help at makeshift shelters set up across disaster zones.