Abrams's 'Episode IX' Co-Writer Is the Real 'Star Wars' News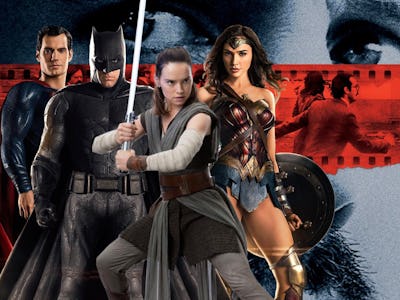 Lucasfilm, Warner Bros.
Like Rey giving a lightsaber back to the former prodigal son, J.J. Abrams is returning to the Star Wars universe as the director of the still-untitled Star Wars: Episode IX in 2019. But while Abrams's return is a big deal, the co-writer joining him may be an even bigger deal: Chris Terrio, the screenwriter of Argo, Batman v Superman: Dawn of Justice, and Justice League coming this November.
Announced at the same time as Abrams, Terrio has officially joined the production of Star Wars: Episode IX as co-writer with Abrams. Just as Abrams replaces Colin Trevorrow, Terrio is replacing Jack Thorne (Harry Potter and the Cursed Child), who performed rewrites during Trevorrow's reign over the film.
Obviously, there's next to no detail of the plot of Episode IX, not even a title. But the film will complete the sequel trilogy that began with Abrams's Star Wars: The Force Awakens released in 2015.
Filmmaking is a collaborative process, so it's maybe careless to attach any and all good and bad things that were in Argo (which Terrio won an Oscar for) and Batman v Superman (which Terrio took over from David S. Goyer). Still, it is fascinating Terrio is writing Star Wars. Argo, a period thriller about the extraction of American officials during the Iranian Revolution, is loaded with sci-fi tropes that name-dropped things like Star Trek, Planet of the Apes, and yes, Star Wars; although an anachronism, a Boba Fett toy is seen on a shelf in Argo.
DC superhero fans may also be interested in the new Star Wars as Terrio's next immediate work will be seen in Zack Snyder/Joss Whedon's Justice League. Although Disney owns both Star Wars and Marvel, there's a fun creative "crossover" between Star Wars and DC now that Terrio is on board.
Star Wars Episode IX will be released on May 24, 2019.