Justin Roiland Pranked Joel Osteen as Rick From 'Rick and Morty'
"This is a prayer line, and we don't have time for foolishness."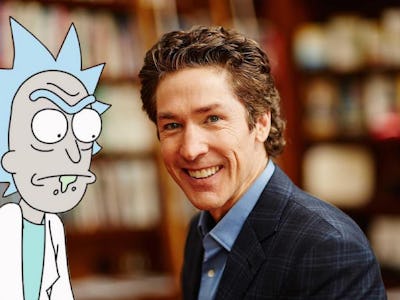 Adult Swim / Joel Osteen
Rick Sanchez of Rick and Morty fame has delivered many harsh words about organized religion over the years, and the latest subject to draw his ire is none other than the infamous televangelist Joel Osteen.
Justin Roiland, co-creator of Rick and Morty and the voice behind the popular show's two title characters, joined comedy YouTubers H3H3 Productions for a special podcast to raise funds for the reconstruction of Houston after Hurricane Harvey. As part of the show, Roiland called a "prayer hotline" at Joel Osteen's church in character as Rick. The prank was intended to troll the televangelist who notoriously refused to open his church's doors to victims of Hurricane Harvey last week.
Instead, the prank mostly just terrorizes a poor woman who just really wants to pray with Roiland's Rick, and she clearly has no idea she's talking to a cartoon character. "Rick" jokes about her speaking in tongues, and before long she actually does babble. Roiland just riffs on the sounds and the incomprehensible string of words she speaks with no respect for religious belief.
Check it out right here:
In a more serious moment during their conversation, Roiland/Rick hazards a translation of her babble: "Hey, don't let people into the building during the flood, because we don't want their dirty footsteps walking on our nice carpets?" Many people on Twitter assumed this was why Osteen kept his doors closed to victims of the flood.
Whether or not that was actually the case, Osteen was caught in a lie after claiming that flooding rendered the church uninhabitable only for locals to provide photographs of the mostly-untouched building. So Joel Osteen found himself in quite the pickle after getting caught in his public lie on Twitter, but now, he has to deal with an entirely kind of pickle:
Roiland chats with the woman on the phone line for several minutes. Eventually, after Roiland starts mocking her jumbled words, she says, "This is a prayer line, and we don't have time for foolishness." But when Roiland responds to her words with a chorus of "ricky ticky ta ta ta!", she erupts into laughter.
"You're laughing at it because you know it's funny," he says, "because it's ridiculous. I just made you laugh at your own ridiculousness."
Laughing at one's own ridiculousness is the heart of Rick and Morty though, isn't it?
Rick and Morty airs Sundays on Adult Swim at 11:30 p.m., and as far as we know, victims of flooding are still not allowed in Joel Osteen's church.
If you enjoyed this article, you might like this video about Rick and Morty fan theories.