Twitter Forced Televangelist Joel Osteen to Act Like a Christian
Osteen kept tweeting thoughts and prayers for Houston while refusing to open his megachurch for refugees.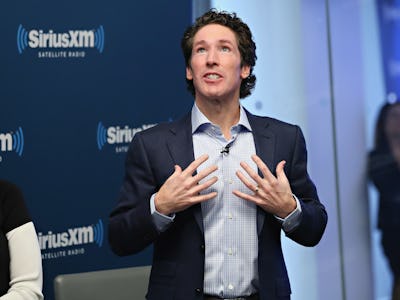 Getty Images / Cindy Ord
When Hurricane Harvey hit Houston, televangelist Joel Osteen leaped into action by tweeting out his prayer for survivors and blocking anyone who suggested he open his 16,800-seat megachurch, Lakewood, to those displaced by flooding.
"Please join us as we pray," he tweeted valiantly, ignoring the cries of those in need and overseeing Lakewood's PR, which told several news organizations that flooding in the church prevented its use as a safe haven. When locals began photographing the church, which didn't look all that affected by the storm, Osteen was trapped.
Osteen tried a couple of different tactics before actually opening his megachurch stadium to the public, first tweeting some messages about forgiveness and the dangers of judging someone based on a single act, and then introducing a new page on Lakewood's website to address hurricane relief. Finally, on Tuesday, after being pestered by Twitter users for more than 24 hours straight, Osteen announced that Lakewood would begin taking in storm victims. Meanwhile, Lakewood released some promotional language to the public stating that it had never closed its doors at all, which is a lie.
Osteen donated his immense salary back to the church in 2005 — at the time, he was making $200,000 a year from delivering sermons — but he still makes money on book deals and from touring as a televangelist. He and his wife, Victoria, whom he mentions in many tweets, live in a 17,000-foot mansion in River Oaks, Texas. The primary Osteen home includes six bedrooms, six bathrooms, three elevators, five fireplaces, a pool house, and a guest house. It's reported that Osteen owns several other properties in Texas.
In 2012, when Oprah Winfrey interviewed Osteen, he told her that he didn't feel he should apologize for the wealth he's amassed during his career as a celebrity pastor. In fact, Osteen's beliefs are commonly referred to as the "prosperity gospel," which means he and his followers consider material wealth a gift from God for devout Christians. The Osteen family has been criticized by right-wing and left-wing Christians for nearly a decade, for not only amassing material wealth at a rapid pace but for telling their followers that God wants them to be wealthier than the average person.
Osteen's wealth was the subject of much ire on Twitter during Hurricane Harvey, especially when users discovered that he was neither donating funds to storm relief nor opening his immense stadium to the public.
Osteen never made a statement confirming that the deluge of angry tweets he received was the catalyst for opening Lakewood's doors, but all the same, the church is now taking in hurricane survivors. Perhaps the internet will return to mock Osteen's high net worth and controversial teachings once the storm passes.
See also: Why 'Far Cry 5' Made Its Villains Southern Christians, Alienating Half the Internet