Hawaii Will Explore the Idea of Basic Income So 'Everyone Benefits'
The state's economy is especially vulnerable to automation.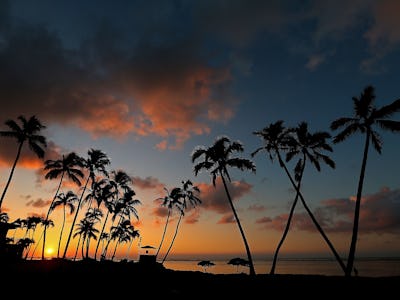 Getty Images / Mike Ehrmann
Hawaii's tourism industry keeps the island state's economic engines humming along, but increased automation of customer service rightfully has some worried that what TripAdvisor did to the travel agent, automation will do to the concierge.
And that's partly the reason a state legislator advocating for basic income in the state of 1.429 million residents saw his bill to explore the idea pass the state legislature this summer.
"Our economy is changing far more rapidly than anybody's expected," State Representative Chris Lee, told the Associated Press in a story published this past weekend.
Lee now has the legislative OK to convene a "basic economic security working group" comprised of the state's departments of labor, business, economic development, and tourism. Lee told Business Insider earlier this summer that he first heard of the idea of basic income on Reddit years ago. This past summer, he returned to Reddit to share the news of the bill's passing.
"As innovation and automation displace jobs and transform the marketplace, it will require a paradigm shift in policy to ensure that the economy remains stable, everyone benefits, and no one is left behind," Lee wrote on r/Futurology.
In some ways, it hardly comes as a surprise that one of the nation's most left-leaning states has been the first to collectively take this kind of step toward what many conservatives view as a "government handout." But the impetus goes far beyond just politics.
One major reason for Lee's support of this kind of system is the underlying concern of how technological advancement is already affecting the larger economy.
"Pursuing hard work enough to make a decent living no longer applies in an economy in which automation and innovation have taken that away from so many people," he told Business Insider.
In this sense, the concerns of Lee and his cohorts mirror those of tech entrepreneurs, like Elon Musk and Richard Branson. But Hawaiians may have reason to take extra caution when it comes to the foretold robot job-pocalypse.
A huge portion of the Hawaiian economy centers around tourism and hospitality, which is one of the job sectors most rife for automation takeover; receptionists, retail salespeople, taxi drivers, cooks, and bartenders were all among the occupations with the highest probability of being computerized, according to a 2013 Oxford Martin study.
Within the bill, Airbnb is called out by name as an example of a company disrupting Hawaii's tourism industry. So is the looming threat of self-driving cars operating as taxis.
The future of agriculture and farming, which has also traditionally played a significant role in Hawaii's economy, is also expected to change dramatically as driverless tractors, drones, and enclosed hydroponic farms potentially imperil the future of farm laborers.
As always happens when the idea of a basic income gets thrown around, skeptics question where exactly these funds would come from. Tom Yamachika, president of the Tax Foundation of Hawaii, told AP that he estimated it would cost $10 billion per year for all Hawaii residents to receive $10,000 as an annual basic income. Another issue noted by critics is the potential for this kind of system to attract homeless Americans to move to the island, which already has above-average homelessness rates.