Fan-Made 'Game of Thrones' Spin-off Gives the Show a Modern Update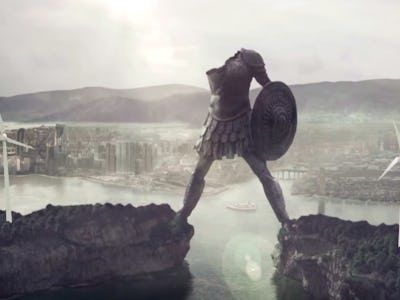 Westeros the Series
What if direwolves walked around on the same streets as cars, dragons flew over skyscrapers, and Lannisters gave speeches that were broadcast on live television? It'd probably look a lot like this great fan-made trailer for a modern Game of Thrones spin-off.
On Tuesday, Westeros The Series uploaded the trailer for Westeros to YouTube, offering a modern spin on the world of Game of Thrones. "Trust me, fear cuts deeper than swords," a Lannister prime minister says to an audience in-person and on multiple TV screens, a clever way of connecting something Game of Thrones-esque with the paranoia of the present day. "There is nothing behind the Wall," the Lannister later says, driving the point home even more. The trailer also might play on current anxiety regarding domestic terrorism, albeit involving dragons, as it features a hooded figure being asked by a man in a suit if he's "prepared to ignite" before a dragon's shadow is seen moving across a city.
In addition to all the previously mentioned examples of how Game of Thrones has transitioned to modern times in Westeros, there's also a "Targaryen Square" train station, windmills turning by a giant, a partially destroyed statue of a warrior, and, of course, drugs and sex.
UPDATE: In a follow-up video uploaded to the Westeros The Series YouTube channel on Monday, the spin-off was revealed to be marketing for Sunday with Lubach, a a satire news show which you may know for producing a video introducing President Donald Trump to the Netherlands. For now, the Westeros trailer will have to stand alone as a cool alternate version of the Game of Thrones we all know and, mostly, love.