First Look: LG V30, LG's New Flagship Phone Debuting in Berlin Today
LG has recognized people want more camera features.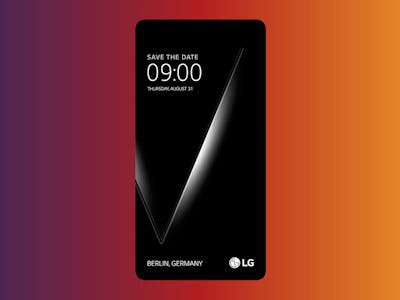 Ahead of its debut on Thursday at the IFA Berlin consumer technology show, here's a first-look at the LG V30, the company's latest smartphone set for delivery to customers this fall.
Inverse got a preview of LG's new flagship phone — not the final retail version, it should be noted — and put it through its paces this week. Below are a few game-changing features for LG owners and points of interest for anyone looking to avoid a four-figure iPhone (while no price has been set for the LG V30, it's a safe bet to say it won't cost that much). It will have stiff competition this fall not just from Apple, but Samsung, but first, let's get into what LG has in store:
LG V30
It's a 6" beauty with an OLED — the vibrant, super-thin technology that is taking over digital displays — screen. And yes, that's on the big side: It's bigger than the 5.8" Samsung Galaxy S8, bigger than the 5.5" iPhone 7S, bigger than the 5.6" Google Pixel. It's bigger than the Windows 8.1 phone (5"). It's smaller than the 6.2" Galaxy S8+ and it's the same size as the 6" Google Pixel XL. The good news for anybody with Donald Trump-sized hands is that V30 uses much of that rectangular real-estate on its screen, so the trade-off is more work-space and camera space.
Hello, Floating Bar:
Let's get this out of the way: The rumored, the "second screen" interface that arrived with last year's V20 phone — basically the "second screen" was an extension of the main screen — has been replaced with a "floating bar" on the V30, which offers quick access to shortcuts you use often. It's another time-saving feature, great for quick screen-capturing or GIF-making if you're watching a video. It's a more refined design touch that you'll soon work into your behavior and forget about. Moving on…
The Camera and Video
This is where LG seems to take its boldest steps, based on this preview unit.
The main camera consists of a 16 megapixel/13 megapixel dual lens and the selfie camera is 5 megapixel device. If we're honest, V30 actually is a camera that also has a phone built-in, which feels refreshingly true to what most consumers probably want. What might seem like an overkill of potentially game-changing features to the camera only seems like overkill if you never use your phone's camera, which is precisely none of you reading. There are loads of camera features here, especially if you're coming from the iPhone environment. How often consumers use these features remains to be seen, but the V30 has them waiting.
The specialized modes are manual video, manual camera, snap shot (immediately preview the image in a dropdown), match shot (take two photos simultaneously using the selfie- and regular cameras), and CineVideo (which is a zoom feature that slowly, creepily, zeroes in on a point in your viewfinder. It's great). There are modes for grid shots, guide shots (think food photos), actual food photos, panoramic shots, and more. It's an excellent camera. It is also a phone that presumably dials.
A note on CineEffect:
A set of some 16 built-in filters for the video camera, dubbed "Cine Effect," felt like a novelty at first but I found myself returning to them. It's an unashamed artistic flourish you might not see in other phones. The end product may never make it off your phone and onto the actual internet, but it's a feature you may also gravitate toward if you've spent any time in art house cinemas. The V30 has 4 GB of ram (iPhone 7 has 2), so it's capable of handling video demands, plus your other apps.
Other features worth a first look:
It's totally water resistant, which has become a must for phones by now. You can't charge it if it's wet, obviously.
There's a buffet of 18 pre-set mood filters for your selfie. Like, too many. But maybe, not enough? There are also skin tone and lighting spectrums to play with.
There's no cost or release date just yet, but we should find that out during LG's presentation in Berlin today. The price will vary by your carrier, but for reference, the V20, when released almost a year ago, payments on AT&T were $34.59 a month for two years, or about $830.