How to See a Huge Star Destroyer Right Now With 'Star Wars' AR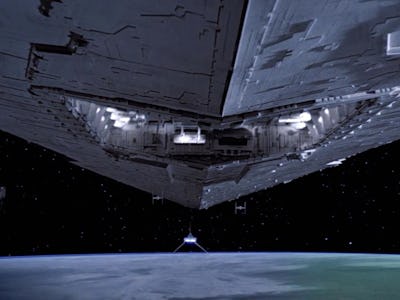 Lucasfilm
The First Order is going a bit old school in preparation for Star Wars: The Last Jedi. Lucasfilm has implemented a host of Star Destroyers to invade Earth via augmented reality in preparation for Force Friday II. Here's how to see them.
Force Friday is a merchandising event put together by Lucasfilm to promote the release of all its brand new Star Wars toys and merchandise ahead of The Last Jedi. The company did the same thing for Star Wars: The Force Awakens in 2015, but things are a bit more interactive this time around.
If you download the Star Wars app, you'll be able to see Star Destroyers hovering over landmarks around the world, with TIE fighters circling in a menacing formation. If you get within a mile of any of 20 landmarks around the world, you'll be able to witness them via the Star Wars app's AR feature.
Here's the full list of the 20 landmarks around the world where you can see a Star Destroyer:
Central Park in the United States, CN Tower in Canada, The London Eye in the United Kingdom ,Copacabana Beach in Brazil, The Eiffel Tower in France, Gamla Stan in Sweden, Golden Gate Bridge in the United States, Gran Via in Spain, Grand Canyon in the United States, Ha'Penney Bridge in Ireland, The Hollywood Sign in the United States, Lumpini Park in Thailand, Memorial de America Latina in Brazil, Merlion Park in Singapore, Niagara Falls in Canada, Piazza del Duomo in Italy, Schloss Charlottenburg in Germany ,Sydney Harbour Bridge in Australia ,Victoria Harbour in Hong Kong, and Yoyogi Park in Japan
And as for how, exactly, to use the Star Wars app to see everything, here are 5 simple steps:
1. Download the Star Wars app
Find it in the Android and Apple stores. Upon downloading, you'll be able to pick your display: Droid (blue), Light (green), or Dark (red, obviously).
2. Open "Find the Force" in the app
There are plenty of features in the app, but you want the one that features Rey holding aloft her lightsaber, looking suitably heroic.
3. Allow the app to access your location, camera, and audio
If the app doesn't know where you are and you can't see or hear anything that's going on, what's the point?
4. Press the "scan" button
If you're within a mile of one of the landmarks, a red "scan" button will appear in the lower right-hand corner. Aim your camera at the sky and press "scan."
5. Take pictures and listen to the scream of the TIE fighters
And hope the First Order never actually makes it to Earth.
Force Friday II goes down this Friday, September 1.
Star Wars: The Last Jedi premieres in theaters on December 15.