Evangeline Lilly Reveals First Image of Her as Marvel's the Wasp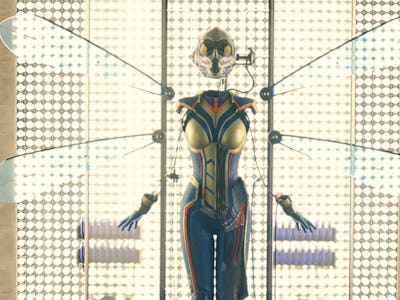 Marvel Studios
When Hope van Dyne finally suits up in Ant-Man and the Wasp, she'll be sporting a slightly different costume than what was shown at the end of the first film.
In a tweet on Monday, Evangeline Lilly (who plays Hope, aka The Wasp) showed off a look at her character in costume as a tribute to artist Jack Kirby, who made so many contributions to the world of comics, including co-creating the Wasp.
While the suit Hank Pym (played by Michael Douglas) offered her at the end of Ant-Man used more gold and blue and was sleeveless, her new outfit is darker with red and blue notes, and of course, it has sleeves. The wings present on the previous costume don't seem to be a part of this new suit, but this could be because they only appear when she shrinks, or perhaps they fold up. Also absent is the Wasp's helmet.
Aside from the lack of wings, the Wasp's new look is much more aligned with the new, red and black Wasp in the comics, Nadia Pym, rather than the classic yellow and black Wasp.
Wings and helmet or not, the suit looks great, even if it could stand to be a bit more colorful. The outfit could always turn out to be a prototype or something Hope iterates on, though, so there's a chance we'll see another costume at some point.
Ant-Man and the Wasp opens on July 6, 2018.