Robert E. Lee's Descendant Challenged White People at the VMAs
Robert Lee IV called his ancestor "an idol of white supremacy, racism, and hate."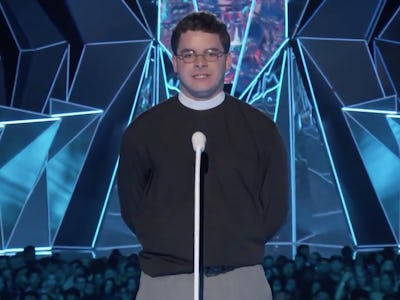 MTV
Robert Lee IV, descendent of Confederate general Robert E. Lee, urged white viewers to use their privilege to confront racism as he introduced slain protestor Heather Heyer's mother, Susan Bro, at MTV's Video Music Awards on Sunday.
Lee cited Black Lives Matter, the women who marched in January's Women's March, and Heather Heyer as citizens whose bold stances against bigotry and the oppression of minorities must be emulated.
"As a pastor, it is my moral duty to speak out against racism, America's original sin," Lee said in his brief speech, to a burst of applause. If Lee's direct, blatant renunciation of the values his ancestor fought for is not enough to make historical revisionists get the fuck over the fact that they lost the Civil War, at the very least it is an example of white privilege wielded to promote progress.
After her introduction by Lee, Susan Bro went on to announce the establishment of the Heather Heyer Foundation, which will provide scholarships for other activists, before presenting the "Best Fight Against the System" award to all six nominees, including Big Sean, John Legend, and The Hamilton Mixtape, in the spirit of inclusion.
Bro has reportedly refused to speak to Donald Trump, who condemned violence in Charlottesville on "many sides" in the wake of Heyer's death, a statement that he later doubled down on. Instead, Bro opted to use her newfound visibility to promote her daughter's work as an activist, and inspire other people to get involved in the fight against racism.
"I want people to know that Heather never marched alone," Bro said before she announced the "Best Fight Against the System" winners. "She was always joined by people from every race and every background in this country."