'Thor: Ragnarok' Will Be Way Shorter than 'Guardians Vol 2.'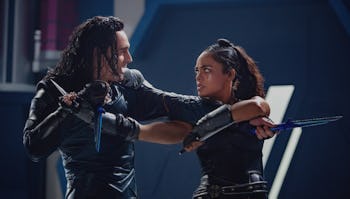 Marvel Entertainment
Epic space adventures don't have to mean epic running times. Marvel's Thor: Ragnarok, the next film in its Thor trilogy coming November 3, will maybe have a considerably shorter running time than most Marvel movies, including this year's Guardians of the Galaxy Vol. 2 (136 minutes) and Spider-Man: Homecoming (133 minutes).
On Wednesday, director Taika Waititi (Hunt for the Wilderpeople) quote-tweeted a fan account that shared the Fandango page for Thor: Ragnarok, which listed the total running time for two hours and ten minutes. That's about the average for a Marvel Studios film, and it may very well be the actual running time. But Waititi had some fun on Twitter, joking that the film is actually "closer" to 90 minutes, with "40 minutes of credits!!!"
On average, most movies produced by Marvel Studios run just under or over two hours. 2008's Iron Man, the first film in the MCU, clocked in at 126 minutes, while the game-changing The Avengers from 2012 is still one of the longest movies at 143 minutes. Even at the supposed 130 minutes that Thor: Ragnarok could run, the film wouldn't surpass previous films like Captain America: The Winter Solider (136 minutes) or Avengers: Age of Ultron (141 minutes).
But if Thor: Ragnarok really is running at a breezy 90 minutes, then the movie joins The Dark Tower as one of the quickest summer blockbusters in recent memory. Hopefully Ragnarok can still capture the epic scope of the cosmos, a perspective the Stephen King adaptation failed to do.
It's also possible Waititi is just trolling everyone, as Waititi's Twitter feed can attest: The man is just a delight.
Thor: Ragnarok will hit theaters on November 3.