Somehow 'The Dark Tower' Movie Is Only 90 Minutes Long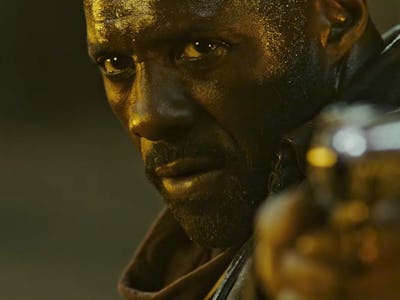 YouTube.com/Sony Pictures
The Man in Black fled across the desert, and the Gunslinger followed, and it will only take, like, 95 minutes for him to catch up. Earlier today, the British Board of Film Classification rated Sony's upcoming movie The Dark Tower, which stars Idris Elba and Matthew McConaughey in a continuation of Stephen King's magnum opus, with some rudimentary details such as the film's genre, plot summary, and release date. However, of most significance is its confirmed runtime of 95 minutes, which is pretty short for an epic fantasy based on what King considers to be his greatest work.
Length doesn't always mean quality — just look at Batman v Superman: Dawn of Justice from last year — but it is curious that Nikolaj Arcel's The Dark Tower, which has languished in development hell for at least a decade, is coming up pretty short in its runtime. Typically the 90-minute range is reserved for romantic comedies or children's movies, not genre-bending apocalyptic fantasies based on a series spanning eight books and written by one of the most popular authors of all time.
However, even if The Dark Tower isn't as long as Lord of the Rings or anything from Marvel, its 95-minute runtime hopefully means it's a tight, well-plotted movie free from bloat. The Dark Tower may end up in the same class as great films under two hours, such as Toy Story, A History of Violence, Trainspotting, Reservoir Dogs, and even Stand By Me, another film based on a Stephen King book.
The Dark Tower will be released on August 4.