Rumored 'Justice League ' Soundtrack Hints at 7th Superhero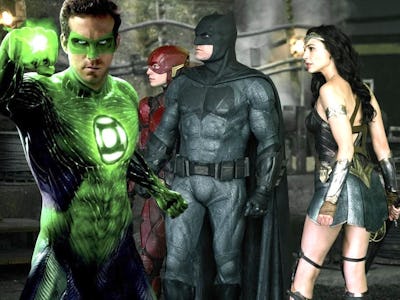 Warner Bros.
The current team roster in Zack Snyder's/Joss Whedon's Justice League falls one superhero short of the standard seven, even when you count Superman probably coming back from the dead. But the film's rumored soundtrack hints that another hero is on the way. In a screenshot of a deleted IMDB post captured by Reddit, the soundtrack to the next major DC Extended Universe film includes a song from Imagine Dragons, "Unite the Seven," which all but confirms that the full Justice League roster will make it to the big screen. But who is the seventh?
On Reddit's forum for Imagine Dragons fans, a user posted a screenshot of what looks like a deleted IMDB post that lists all the licensed and original songs that will be on the soundtrack for Justice League. The song list includes Godsmack's cover of "Come Together" by The Beatles, as well as the White Stripes's "Icky Thump" which was used in the 2016 Comic-Con trailer. But the rumored listing also includes new music, such as the Kendrick Lamar/Skrillex collab track "Resurrection" (which hints at Superman's return) as well as "Unite the Seven" from Imagine Dragons.
Previously, back in 2015 the phrase "Unite the Seven" was a tagline used by Warner Bros. to promote the film. But, since then, there have only been six characters prominently featured: Batman (Ben Affleck), Wonder Woman (Gal Gadot), The Flash (Ezra Miller), Aquaman (Jason Mamoa), Cyborg (Ray Fisher), and Superman (Henry Cavill). DC fans on r/imaginedragons are hedging their bets that the seventh will be Green Lantern, who Cavill himself has teased for the movie.
A new Green Lantern movie, rumored to be titled Green Lantern Corps is in development, but no official announcement was made at San Diego Comic-Con this year. So just for fun, here are five likely "seventh members" who could appear in Justice League.
1. Green Lantern (Hal Jordan or John Stewart)
Of course it could be Green Lantern, easily one of the most prominent B-list superheroes DC has in its portfolio. Getting audiences to forget about the 2011 Ryan Reynolds vehicle is a difficult task, so it would make sense to ease moviegoers into accepting a new Green Lantern if he makes a surprise debut in Justice League.
2. Martian Manhunter
One of the true OG members of the Justice League of America, J'onn J'onzz is a peaceful but powerful warrior and the last living Green Martian in existence. Currently, Martian Manhunter has a prominent role in the live-action TV series Supergirl played by David Harewood.
3. Green Arrow
In 2016, Stephen Amell said that there are no plans by DC to bring the Green Arrow to the big screen. That's a shame; the Flash is running around on both TV and movies, so why not the Green Arrow?
At the risk of including too many green superheroes, Oliver Queen could be a fun inversion of the brooding and vengeful Batman played by Ben Affleck. While the Green Arrow in the TV series Arrow is more or less a copycat Batman, in the movies, the Green Arrow could act like his truer self — wise-cracking, sarcastic, and not afraid to show off.
4. Shazam
With so much hubbub surrounding Shazam! and Black Adam, could Billy Batson and his powers of the Greek gods surprise the DCEU in Justice League? Shazam! already has a director locked in, and the Dwayne Johnson-led Black Adam is supposed to be a big deal. Why not get the ball rolling in Justice League?
5. Plastic Man
A former crook turned into one of the goofiest (and best) superheroes of all time, Plastic Man can add some much-needed levity to the overwhelmingly dark DCEU. You can't take a guy who can stretch any part of his body seriously, which is why Plastic Man needs to debut in these movies like yesterday.
Justice League will be released on November 17.