This Map Shows the Food Each State Hates the Most
Ohio is being unreasonable.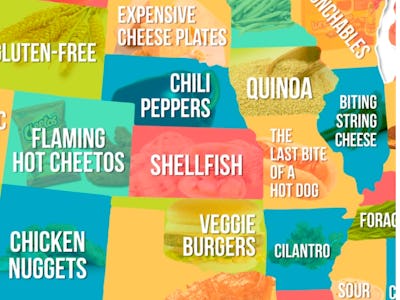 hater
We apparently live in a nation of picky eaters. A new map released by the dating app "Hater" on Tuesday depicts the food that's most disliked in every state, and while some of them are understandable — Tennessee doesn't like "foraged food" — many are just absurd. We're looking at you, Minnesota, with your inexplicable hatred for beans.
Hater upends traditional dating formulas. "Built on the philosophy that mutual dislikes can bring people closer than their shared interests," explained a press release upon the app's February launch. "Hater's algorithm matches people by how much they like, dislike, love, or hate a given topic, ranging from cilantro to Trump."
As of July, over 500,000 people have used Hater and swiped on topics more than 100 million times. Users add opinions to their profile by swiping to indicate whether they hate, dislike, like, or love something. "Every topic in the app has a score between 0 & 1 based on how our users (globally) swipe on it," an app representative told Inverse in July. "The lower the score, the more hated the topic."
This newest map is fascinating, in part because some of the hated items are generally considered to be popular. New Mexico hates chicken nuggets, and Nevada's being all counterculture in shunning La Croix.
Here are some zoomed-in views of the map, per BuzzFeed:
Texas says it doesn't like well-done steak, but it might be lying.
Washington, the home of Starbucks, hates coffee made from Keurig K-Cups. Wyoming, which harvested $89.86 million worth of barley, corn, and wheat in 2016, hates gluten-free food.
Alaska hates Voss water, maybe because it has plenty of its own fresh water: 40 percent of the country's surface water lies in the state.
Check out Hater's last map of the United States, which showed the thing that every state most detests, from Casey Affleck to polo shirts.
Oh, hello. You've made it to the end of this story! Congrats! Now tell us how to make Inverse better. Take our user survey and maybe win an Amazon gift card! ⚡️