Has Bannon's Departure Affected Trump's Impeachment Odds?
An Irish betting house has odds at 4/6 that Trump will get the boot.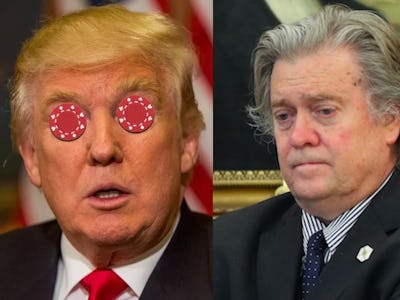 On Friday, Steve Bannon made his exit from the White House, the latest in what has felt like a "greatest hits" compilation of staff departures under the Trump administration.
When the news broke, sources gave the The New York Times different accounts of Bannon's farewell; some saying President Trump told senior aides on Friday that Bannon was out, while others maintained that he submitted his resignation on Aug. 7, only to hold off on announcing his decision following the violence in Charlottesville, Virginia.
Either way, Bannon is gone, and the move has many wondering if it might bring a level of stability to a White House consumed with infighting and perceived political liabilities. If it's any indication, betting houses have changed their hunches on Trump's impeachment …but not that much.
Back in May, Inverse reported on a number of online betting houses that were taking bets on the odds of Trump being impeached, from each year he's eligible to be in office. Back on May 11, Trump's odds of being impeached during his first term were sitting at a whopping 60 percent.
Over on Paddy Power now, odds on that have remained the same since the announcement of Bannon's leaving, with Trump's chance of being impeached in his first term still sitting at 4/6.
His odds of not making it to 2017, however, are sitting at 2/1. Back in May they were at 3/1.
Trump's odds of making it into 2018 have also changed, moving from 6/1 in May to 11/2 by time of writing.
Curious if Bannon had any impact elsewhere, Inverse checked another betting site called Ladbrokes. Bettors' hunches that Trump will be ousted in 2017 had gone from 6/1 on Friday to 5/1 on Sunday.
While the Jenga game that is the White House has lost yet another piece, always appearing closer and closer to toppling over, bets on Trump's impeachment remain relatively stable.