Watch L and Light's Tense First Meeting in Netflix's 'Death Note'
L isn't pulling any punches.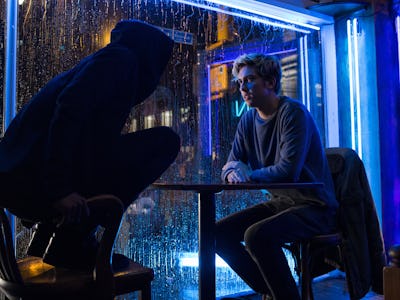 Netflix
Ryuk, a god of death, took to Twitter to tease a tense confrontation between a mass murderer and the mysterious detective trying to take him down in Netflix's upcoming Death Note film.
In the new clip from the movie adaptation of the classic manga, Nat Wolff's Light Turner has a tense in-person confrontation with his nemesis, L, in a random cafe.
At the beginning of the story, Light — who's both the protagonist and villain — finds a magical notebook that kills any person whose name is written inside. He uses it to cleanse the world of evil, as he sees it, through mass murder. In the anime and manga, he aims to be the "god" of a "new world order" and uses his father's connections as chief of police to help him in his efforts. Light hides his true intentions from everyone but Ryuk, the shinigami who follows him around, unseen by anyone else.
But strange, brilliant L has it all figured out in this latest clip, and he confronts Light in a cafe.
Check out the clip right here:
Set in the American northwest rather than Japan, the Netflix adaptation of Death Note will be a radical departure from previous iterations of the franchise. This confrontation, for example, is a slight departure from the structure of these characters' conflicts.
The American live-action Death Note adaptation hits Netflix on August 25.