What Rhaegar Targaryen Probably Looks Like on 'Game of Thrones'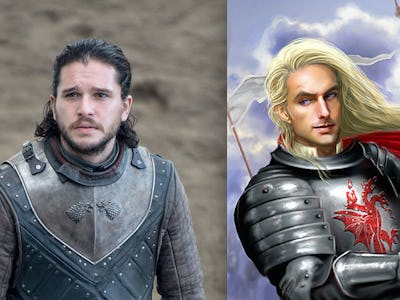 HBO/Christine Griffin
Rhaegar Targaryen is the most important Game of Thrones character who has never actually appeared onscreen. But, that might be changing in Season 7 — and if it is, the internet has surmised that he'll probably be portrayed by Welsh actor Wilf Scolding.
Rhaegar has been part of the story's history since the very beginning. Robert Baratheon and Ned Stark discussed his supposed abduction of Lyanna Stark in the show's very first episode. In the ensuing seasons, references have been made to his mysterious abduction of Lyanna Stark, his good looks, his battlefield prowess, and his harp skills. In short, Jon Snow's father was essentially the Manic Pixie Dream Prince of Westeros.
Season 7's "Eastwatch" dropped the bombshell that Rhaegar annulled his marriage to his first wife and married "someone else" in secret. If that someone is Lyanna Stark — and there's really no one else it could have been — then Rhaegar did not abduct Lyanna. It also means that Jon Snow is not a Stark or Targaryen bastard. He's Rhaegar's legitimate son and heir, and he's in front of Daenerys on the line for the Iron Throne.
Gilly read that information in an old book in the Citadel, but neither she nor Sam noted its significance at the time. You know what would really hammer it in? A Bran Stark flashback vision showing Rhaegar interacting with Lyanna in some capacity that makes it clear once and for all that he's Jon's real dad.
And the internet has surmised that if a flashback is happening, he'll be played by Scolding. One redditor monitored his social media activities and figured out that he's following and being followed by select Game of Thrones cast members. Most intriguing among these is Aisling Franciosi, who played Lyanna Stark in the Season 6 flashbacks to Jon's birth. The redditor also points out that he fits the show's key casting demographic as a "relatively unknown Brit who went to Drama school."
Scolding also looks a bit like Charlie Hunnam, who turned down a part that was rumored to be Rhaegar.
Presumably, if he does appear as Rhaegar, he'll be sporting an appropriately silver Targaryen wig. Nonetheless, his facial features are perfect. He looks vaguely similar to Jaime Lannister — which makes sense since a young Cersei was really into Rhaegar. In A Feast for Crows, she thinks, "Has any man ever been so beautiful?"
Since Scolding's eyes and eyebrows are darker, his look is a bit off from the Rhaegar in the books, who had the trademark Targaryen violet eyes. But the show has played fast and loose with Targaryen eye color — and his darker eyes make his resemblance to Jon Snow more plausible.
Game of Thrones Season 7 is currently airing Sunday nights on HBO.