Twitter Video Shows Durham Protesters Topple Confederate Statue
Protestors were there to "smash white supremacy."
by Monica Hunter-Hart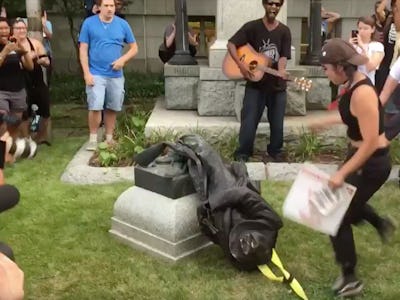 Twitter user: @KaplanABC11
On Monday, protestors in Durham, North Carolina toppled a Confederate Army monument that stood outside the city's county courthouse, in the tense aftermath of Friday's white power rally in Charlottesville, which led to the death of one woman and many injuries. Footage of the statue's destruction was posted to Twitter seconds after the event and went viral.
A group of anti-racism protestors gathered near the city center, shouting chants like, "No Trump! No KKK! No fascist USA!" Protestors used a ladder to climb the statue (though police had covered it with cooking spray to make it harder to scale) and tied a rope around it; they used it to pull the statue down, where it collapsed but remained mostly intact.
The statue was raised in 1924 and commemorated fallen soldiers in the Confederate Army. It depicted a nonspecific Confederate Army soldier with a canteen, bedroll, and muzzle-loading rifle, and was engraved with the words, "The Confederate States of America," and "In memory of 'the boys who wore the gray.'"
A description of the statue's origins on DocSouth notes, "The statue was sold by the McNeel Marble Company from Marietta, Georgia, which produced many other Confederate statues and sold them all over the South."
Of 120 Civil War memorials that exist around the state of North Carolina, around 100 commemorate the Confederate Army. North Carolina sided with the Confederacy during the Civil War.
The statue has been the subject of protest for some time. In 2015, someone painted the words "Black Lives Matter" onto it with graffiti.
Protestors told WNCN that they were there to "smash white supremacy." They also said that their actions were responding to the events in Charlottesville, when a white supremacist terrorist drove a car into a crowd of protestors and killed one woman and injured 19 others. Two state troopers also died in a helicopter crash while surveying the Charlottesville protests.
The social media reaction to the event was mixed. While many people relished in the moment:
Others were less thrilled. Some compared these people, who were protesting the iconography of white supremacy, to ISIS and Al Qaeda:
The protest in Durham ended around an hour after the monument was toppled.