Did Jamie Lannister's New Movie Steal a Poster From The Rock?
Film Twitter is having a ball with it.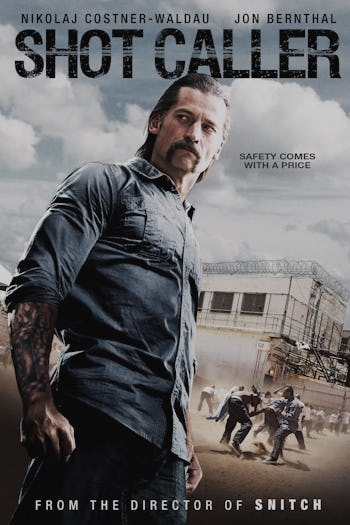 Saban Films
Later this month, Saban Films will release a new movie titled Shot Caller, which stars Nikolaj Coster-Waldau (Game of Thrones) who plays a family man who is sent to prison and gets in deep with a dangerous gang. It sounds pretty serious! But what's got people on Twitter in a laugh riot is the film's poster, which appears to be an actual Photoshop job over another movie: 2013's Snitch starring none other than Dwayne Johnson.
Update: The poster appears to be fabricated. In an email response to an inquiry from Inverse, a representative for the film said this: "We have reached out to Scott as this poster is not an official poster anywhere worldwide. After further research, it appears to be fanmade. This is purely unofficial fan art.
On Friday, Scott Wampler of Birth.Movies.Death. pointed out the striking similarities between the posters for Shot Caller and Snitch, both of which happen to be directed by Ric Roman Waugh. Based on simple observation, it looks as though Johnson's mean mug has been swapped for Coster-Waldau's, with a dash of skin lightening (oh boy) and prison tattoos on Rock's/Jamie Lannister's forearms.
Wampler's tweet began a thread, which contains a mixture of reaction GIFs and obsessive types inspecting aspects of the poster right down to the matching wrinkles of the shirt. Some even point out how painfully generic action movie posters have become, citing other examples like Pressed and London Boulevard starring Colin Ferrel. It has also been mentioned that this poster is just one of many — the main poster for Shot Caller features just Coster-Waldau illuminated by light in a dark room, which is also awfully generic.
You'd be forgiven if you forgot about Snitch until just now. The movie opened at number two when it premiered four years ago and earned a mediocre 56 percent on Rotten Tomatoes. Not bad, but it hardly became the next red-hot action movie franchise. Perhaps Shot Caller will have a better, ahem, shot at it?
Inverse has reached out to the publicity firm representing the movie for comment.
Shot Caller will be released in theaters on August 18.