Elon Musk Denies Giving Assistant 2-Week Test: 'Total Nonsense'
Musk reportedly fired his assistant after a two-week test.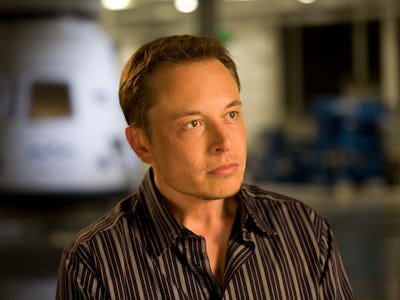 Flickr / OnInnovation
Elon Musk denied on Friday a story about giving his assistant a two-week test to see if she was worthy of a raise, only to fire her when he realized he could do the job himself. The anecdote, which appeared in a book published two years ago, went viral on Wednesday when it was referenced in a report on career skills. Musk described the story as "total nonsense."
In the 2015 book "Elon Musk: Tesla, SpaceX, and the Quest for a Fantastic Future," tech journalist Ashlee Vance wrote about an anecdote that supposedly took place in 2014. Mary Beth Brown, Musk's executive assistant of 12 years, asked for a significant raise in recognition of her years of hard work. Musk instead asked her to take two weeks off, where he would assume her responsibilities to see how much he needed her. When she returned, Musk informed her that he in fact did not need her.
The story resurfaced on Wednesday, when Business Insider described it in a report as "an important career lesson."
Over a series of tweets, Musk said:
Ashlee Vance's biography is mostly correct, but also rife with errors & never independently fact-checked, despite my request that he do so. Of all the bogus anecdotes, this one troubles me the most. Ashlee never actually ran this story by me or my assistant. It is total nonsense.
Mary Beth was an amazing assistant for over 10 yrs, but as company complexity grew, the role required several specialists vs one generalist. MB was given 52 weeks of salary & stock in appreciation for her great contribution & left to join a small firm, once again as a generalist.
Musk, who claims that the book contains between five and 10 significant anecdotes that are half-true or false, also corrected rumors about his martial arts training.
"One other I'd like to correct from the biography: I never said I was a samurai. Said I was ninja," Musk told his followers. "No, that's a joke. Didn't say that either. Just because I have the outfit and the awesome weapons doesn't make me a ninja. That requires years of training."