Why Scientists Think It's a Great Idea to Have a Work Spouse
'A work spouse can be a parallel to a real spouse.'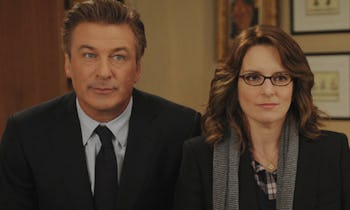 Giphy
There are certain characteristics everyone wants in a partner. Good character is a given and a dash of humor is nice. Trustworthiness, loyalty, and honesty are highly desirable and, if we're being honest, close proximity helps, too. Sharing common interests — like boozing a little harder at the company happy hour and trash talking your boss — is always a plus. If you've been lucky enough to find someone who embodies all this, then congratulations; you may have found your partner in office matrimony.
It's no coincidence that the characteristics of a good "work spouse" — often referred to as the controversially heteronormative "work wife" or "work husband" — mirror the qualities of a good out-of-office spouse, say Karla Bergen, Ph.D., and Chad McBride, Ph.D., who have published one of the few academic papers on the phenomenon. In their paper, published in 2015 in Communication Studies, they make a compelling case for finding and maintaining an office spouse.
"We have examples of people wanting to stay at their company longer than they would otherwise because of their 'work spouse' relationship," McBride tells Inverse. "Conversely, we've had people who say they would look for another job if their work spouse left. The relationship is that special."
Using data from their survey of 269 people about their work spouses, Bergen and McBride defined a work spouse as "a special, platonic friendship with a work colleague characterized by a close emotional bond, high levels of disclosure and support, and mutual trust, honesty, loyalty, and respect." What distinguishes a work spouse from other work friends, they write, is that a work spouse has no filter.
"People feel like they can share disappointments and not feel like that threatens their place at work," McBride tells Inverse. "A work spouse can be a parallel to a real spouse because there are less taboo things on the topic list."
Bergen tells Inverse that her respondents "overwhelmingly described their 'work spouse' relationships as a positive thing." Having a close, trusted colleague that they could share successes and frustrations with made their experience at work better by making it less stressful and more enjoyable.
It makes sense that work spouses are so valuable: Organizational psychologists have found that, in general, genuine work relationships vastly improve workplace morale. University of California-Berkeley professor of psychology and burnout expert Christina Maslach tells Inverse that "social relationships are critical for long-term well-being and mental health," and that companies that prioritize social support networks are much more likely to thrive.
These office social support networks are so important that there are entire agencies dedicated to building them. Perky Work, a consulting agency that helps build office culture, is run by Shannon Duggan, who tells Inverse that the need for a work spouse largely depends on how supportive and friendly the individuals in the company are.
When she moved from an office where she had great relationships to a new job, "the instability of my own personal environment was ripe for a great work husband," she says. In line with Bergen and McBride's ideas on disclosure and support, she says her work spouse "gave me insight on how the company operated" and introduced her to his friends, invited her to game nights, and became a "confidante who genuinely cared about me." In addition to providing initial social support, a work spouse can open the door to additional social relationships, as well.
One concern with work-spouse relationships, however, is that they might deepen into something more, threatening a person's relationships outside the office. While this is certainly possible, McBride has found that work spouses can actually do the opposite.
"Work spouses can better real spousal relationships," says McBride. In his study, he found that people with work spouses enjoyed their home lives with their real spouses more because they ultimately had a better work-life balance that led to a more positive well-being overall.
Setting boundaries with a work spouse, of course, is crucial to making it a useful and healthy relationship. A woman who we'll call Mary told Inverse that both her and her work spouse's actual partners are aware of their closeness but also, importantly, understand that the relationship is not romantic or sexual.
"I never say anything to him [her work spouse] that I wouldn't be comfortable with my partner hearing," says Mary. "My partner has the right to my venting or confessions, or whatever, more so tha my work spouse. If something big happens in my life, it's going to be my partner who knows first. It all goes back to boundaries."
But for all the data showing that social relationships can better a workplace, there are caveats: In a 2015 paper in Personnel Psychology, psychologists argued that "friendships at work is a mixed blessing." While they can make life more positive, work friendships can have indirectly negative effects on the job performance and create a degree of emotional exhaustion at work that otherwise wouldn't be there, the authors wrote.
One woman, who asked to remain anonymous, echoed this idea, telling Inverse that "although the general sentiment is fine, the nickname is silly, borderline unprofessional, and kind of creates a divisive work culture — it can feel like high school."
While people can broadly agree that workplace relationships are beneficial, what people can't seem to agree on is what to call them. The terms "work wife" and "work husband" are contentious because they perpetuate the assumption that such relationships are heteronormative and further the misconception that close emotional relationships are inherently romantic.
Neither of those assumptions are true: McBride and Bergen found that, while depictions of work spouses in pop culture are indeed heteronormative, pairs of straight men and straight women as well as pairs of people with different sexual preferences identified as work spouses, and they didn't love the implications of the term, either.
"I think that the 'work spouse' term is not the best way to describe these relationships," Bergen says. "In most cases, the individuals in these relationships were not crazy about the term. My sense is that in many cases, the term is used by others to 'call out' a relationship in the workplace that they think is maybe a little closer than what might be appropriate in the workplace, especially with a cross-sex (male-female) relationship." Duggan points out that being called out in this way can feel very sexist, harkening back to the era when women were barred from working because they were considered "distracting for all of the men."
The terms can be especially problematic for people who identify as queer because of their inherent heteronormativity. "The term 'work wife' among straight women, however, makes me uncomfortable simply because straight, cis women — who have never had to navigate the pain, confusion, and oppression of queer women — can just take a queer or lesbian relationship and somehow own it in a public and social way that's fun and cute for them," Angela Chandra, a San Francisco resident in her mid-20s, tells Inverse.
The term "work spouse" may be on its way out, but the relationship it describes is here to stay, says McBride. Part of the reason why is the fact that people are spending more time at work. According to the Bureau of Labor Statistics, Americans spend more time at the workplace than they did at home, with one-third of the population even working on weekends. That's a lot of time spent away from the social support systems of family and friends.
Ultimately, says Duggan, work spouses are here to stay because, as people's lives become more and more intertwined with their work, mixing business with pleasure is "almost inevitable."
"What was so black and white before with work and social lives is now this gray area of trying to figure out what is appropriate and what isn't," she says. "We're all trying to navigate the concept of creating social circles at places that also just so happen to support us financially."