Spa Owner Says Jennifer Lawrence's Deprivation Tank Mishap a 'Fluke'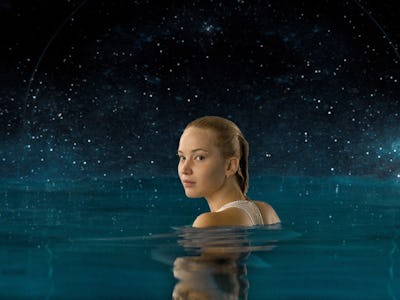 Passengers Movie
When you're busy winning Oscars, acting in the X-Men franchise, and playing the lead role in the Hunger Games series, downtime is paramount. Jennifer Lawrence watches reality TV to unwind, but in the September issue of Vogue, she shared that she takes relaxation to a deeper level inside a sensory deprivation tank.
Lawrence visited Lift, in Brooklyn, New York, a revelation made in an interview that also included confessions about her roles in Passengers and the X-Men series.
She's not wrong to have visited a sensory deprivation tank, either: There's scientific merit to the relaxing effects of the experience, in which a person floats in complete silence and darkness for an hour or more. But as Lawrence discovered, it can shift toward "disorienting" pretty quickly.
Gina Antioco, co-owner of Lift, tells Inverse that it was unfortunate that the movie star couldn't get out of the tank at the end of the session, but her experience was unusual: "It's kind of like being in a bath tub and flipping around. It doesn't really happen," said Antioco, who explained that Lawrence had somehow managed to spin herself around in the tank and tried to open the wrong end. This kind of thing, she says, was a "fluke."
People also have very different experiences when they are floating. Antioco told Inverse it has a lot to do with what you do while you're floating. While some Lift clients often mediate when they are floating, "some people will be hyper focused" and come to think out a problem. Professional athletes just go to Lift just to soak in the super concentrated salt water. Each tank has 1000 pounds of Epsom salt dissolved in the water which helps them with their achy muscles.
Most people come out of sensory deprivation tanks feeling calm and restored. Research has shown that this type of experience, known as Restricted Environmental Stimulation Therapy (REST), can help people with stress and can even lower stress hormones. In a 2005 review published in the journal Psychology and Health, researchers looked at 27 different REST studies between 1983 and 2002. What they saw was that the therapy was relaxing and improved mood and performance.
While the studies examined in the review showed some promise, more research is necessary to show what exactly REST does. Most of the studies in the review had small sample sizes, and some of them didn't have a control group to compare results to.
There are some scientific theories that explain how float tanks help people relax. Keri Rakickas, the owner of Halcyon Floats, a sensory deprivation spa in Philadelphia, tells Inverse that floating is thought to decrease the levels of stress hormones in the body, as it induces theta waves in the brain:
Theta waves are part of the sleep cycle. They're associated with a meditation — a deep, deep relaxation. If you're having a dream, it's in the theta state. When you see a monk sitting there with a smile on his face, in silence, he's in theta.
There isn't a lot of data to suggest that floating itself induces theta waves, although they have been linked to REST techniques. However, research has indeed shown that theta waves are most prominent during meditation, particularly in the brains of expert meditators. In a 2010 study from the Norwegian University of Science and Technology, researchers found that theta waves in the brain's frontal parts "signal to lower parts of the brain, inducing the physical relaxation response that occurs during meditation."
Float tanks are relaxing, it seems, because they directly induce relaxation, and more so because they create an environment in which people find it easier to do things known to help them relax, like meditate. Antioco says people experience different things when they're floating, and this in turn has a lot to do with what they do while they're floating: some of her clients meditate while floating, whereas "some people will be hyper focused" and float in order to think out a problem.
Of course, it has physical benefits, too, like reducing muscle soreness. Some professional athletes go to Lift just to soak in the super concentrated salt water, says Antioco, who also counts Zac Efron as one of her clients. Each tank has 1,000 pounds of Epsom salt dissolved in the water, which not only keeps them constantly afloat, but it also helps them with their achy muscles.
Float tanks don't guarantee results and are not foolproof, but messing up the floating process won't necessarily negate its relaxing effects, either. Despite her less-than-optimal float tank experience, Lawrence, who entered the float tank as part of her excursion with Vogue, told her interviewer, "I had a lovely time."