How Finn Has Become An Actual "Big Deal" in 'The Last Jedi'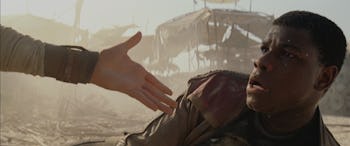 'The Force Awakens'
By the time The Last Jedi occurs, former First Order stormtrooper Finn will finally be the "big deal" in the Resistance that he bragged about being in The Force Awakens. After the battle at Starkiller Base, Finn's a real hero, whether he wants to be or not.
In an interview with Entertainment Weekly published Wednesday, John Boyega spoke about how his role as Finn evolves in the next Star Wars film.
Boyega confirmed that Finn still wants "to get away and not be involved" in everything, but just like how his good intentions to save Rey overcame that urge to run, Finn won't be able to just cut and run.
"Everyone … throughout the galaxy, would have heard about the young Jedi who discovered her powers and defeated Kylo Ren," Boyega said, "and the young former Stormtrooper who helped save the day." The Last Jedi will see Finn team up for a special, secret mission with Resistance maintenance worker Rose Tico that will bring them both behind enemy lines.
Kelly Marie Tran, Rose herself, said, "When Rose first meets Finn, that's how she views him: He is 'a big deal.'" Rose is a "background player" awestruck by Finn's swelling reputation, a humble member of the Resistance swept up into the bigger, overwhelming narrative.
"He's a hero to people like Rose," Boyega said, "who fight for the Resistance because their homes have been destroyed by the First Order." Finn won't consider himself a hero, but seeing himself through Rose's eyes allows him the "opportunity … to be the best he can be."
Star Wars: The Last Jedi hits theaters December 15, 2017